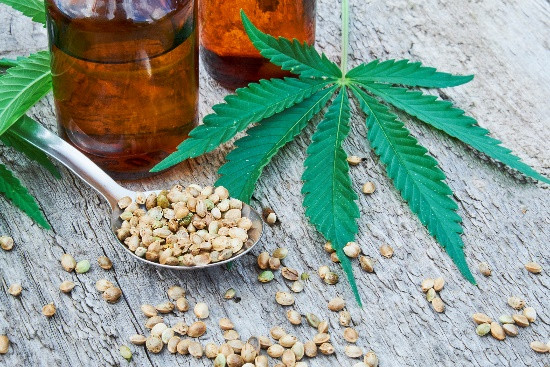 CBD is readily obtainable in most parts of the United States, though its exact legal status has been in flux. All 50 states have laws legalizing CBD with varying degrees of restriction. In December 2015, the FDA eased the regulatory requirements to allow researchers to conduct CBD trials. In 2018, the Farm Bill made hemp legal in the United States, making it virtually impossible to keep CBD illegal – that would be like making oranges legal, but keeping orange juice illegal.
How is cannabidiol different from marijuana, cannabis and hemp?
CBD, or cannabidiol, is the second most prevalent active ingredient in cannabis (marijuana). While CBD is an essential component of medical marijuana, it is derived directly from the hemp plant, a cousin of marijuana, or manufactured in a laboratory. One of hundreds of components in marijuana, CBD does not cause a "high" by itself. According to a report from the World Health Organization, "In humans, CBD exhibits no effects indicative of any abuse or dependence potential…. To date, there is no evidence of public health related problems associated with the use of pure CBD."
Is cannabidiol legal?
The Farm Bill removed all hemp-derived products, including CBD, from the Controlled Substances Act, which criminalizes the possession of drugs. In essence, this means that CBD is legal if it comes from hemp, but not if it comes from cannabis (marijuana) – even though it is the exact same molecule. Currently, many people obtain CBD online without a medical marijuana license, which is legal in most states.
Because CBD produces its biological effects without acting significantly on the brain's cannabinoid receptors, it does not cause the unwanted psychotropic effects that are characteristic of other marijuana derivatives.
It is also important to consider the quality of the product itself. One 2017 study published in the Journal of the American Medical Association found that less than a third (31%) of cannabidiol products sold on the internet were labeled correctly. Many contained less CBD than advertised or also had significant amounts of THC.
Products that may contain cannabidiol include oils, sprays, capsules, lotions, candies, and beverages. It can be administered in oral, topical, edible, or inhaled forms.
Impact of Cannabidiol
If you are interested in a localized application, such as to relieve skin problems or muscle inflammation, a topical product such as a cream, ointment, lotion, or salve might be preferable.
Aaron Johnson is a fact checker and expert on qualitative research design and methodology.
Tips When Taking Cannabidiol
It is important to note that while cannabidiol shows promise in the treatment of some symptoms and conditions, further research is needed. Additional studies may explore variations in dosages and administration as well as how treatment with cannabidiol compares to other medications and treatment options.
Cannabidiol is available in a number of different forms and can be found in a wide variety of products. The three main types of cannabidiol that are available are: