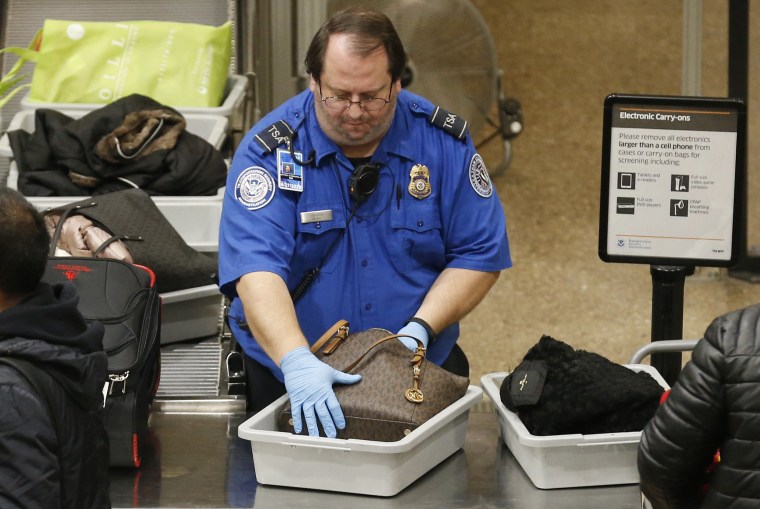 The TSA did not offer any other details on other CBD oil that its website says is allowed on flights now.
All forms of marijuana were previously prohibited in both checked and carry-on bags. But Sunday, the agency updated TSA.gov to reflect new regulations that allow FDA-approved medical marijuana and products that contain hemp-derived CBD oil. The CBD oil is allowed "as long as it is produced within the regulations defined by the law" under the 2018 Farm Bill, which federally legalized hemp and hemp derivatives. The development was first reported by Marijuana Moment on Monday.
The TSA's new rules still ban other forms of marijuana, including certain cannabis-infused products and CBD oils that have THC, which are still illegal under federal law. TSA officers are required to report any violations of that law. It is not clear how the TSA intends to check whether a product contains THC; a TSA spokesperson said that if there were questions of whether a substance was illegal under federal law, the issue would be referred to law enforcement for further adjudication, but that the TSA would not do the testing.
The change was prompted by the only Food and Drug Administration-approved drug that contains CBD oil, Epidiolex, which is used to treat seizures in children with epilepsy, the TSA said.
"To avoid confusion as to whether families can travel with this drug, TSA immediately updated TSA.gov once we became aware of the issue," the agency said in a statement to NBC News.
Epidiolex was approved by the FDA last June to treat severe, rare forms of pediatric epilepsy. The TSA spokesperson said the agency recently became aware of Epidiolex and updated its policy accordingly.
The Transportation Security Administration quietly changed its cannabis policy over the weekend to allow passengers to bring some forms of cannabidiol (CBD) oil, plus an FDA-approved marijuana based drug, on flights.
Hemp derivatives contain little to no tetrahydrocannabinol, or THC, the psychoactive chemical in marijuana that produces a high.
Regardless, the updated policy is welcome news for CBD advocates, especially after some passengers have been arrested for carrying CBD oil on planes — such as a 71-year-old woman who was arrested at Dallas Fort Worth International Airport earlier this month.
Now that traveling is becoming a safe activity again, CBD can be even more of a help when it comes to managing the potential stress around the uncertainty of traveling. The statistics about prevention and protection from vaccines, masks, and social distancing speak for themselves, but it's still perfectly natural to be on higher alert.
The Stress Factor
The short answer: generally yes, as long as it is hemp-derived.TSA's short answer to this question on Twitter is perhaps the most informative answer: "Products that contain hemp-derived CBD oil or are FDA-approved are generally legal & can fly."
TSA Guidelines for Traveling With CBD
Whether you're jetsetting or hitting the road this long weekend, for many of us, this is the first time we'll be traveling in over a year! While we're sure we're all beyond ready to finally get out of town safely again, there may be some stress and anxiety that come along with it.