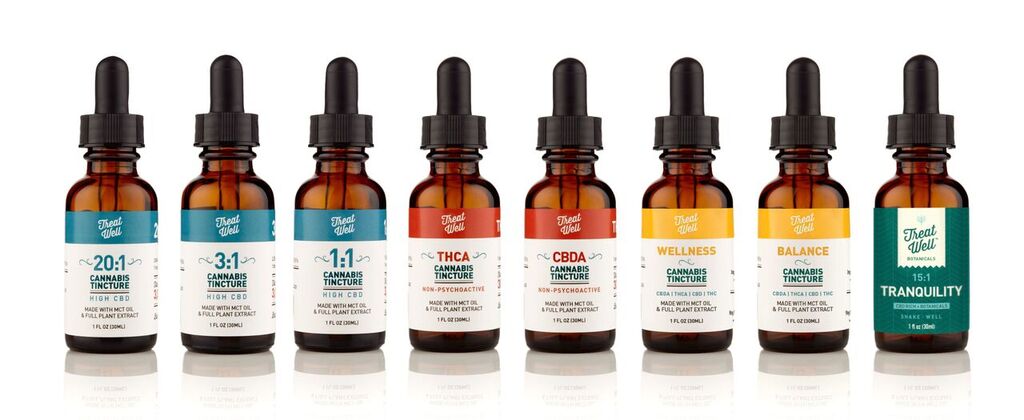 3:1 blend has little to no psychoactivity. Indicated for conditions such as arthritis, colitis, crohn's, IBS, lupus, MS and muscle and bone pain. Larger doses target hormone fed cancers.
20:1 blend is non-psychoactive. Indicated for conditions such as anxiety, migraines, seizures and tremors, muscle soreness, menstrual cramps, post workout recovery and inflammatory conditions.
"Wellness" Tincture is a non-psychoactive blend of the acids (CBDA & TCHA) and neutrals (CBD & THC) with very high antioxidant and terpene content. Can be used as a preventive and promotes overall wellness in addition to targeting many conditions such as pain, inflammation, cancer treatment support and seizures.
"CBD Rich" Tinctures
1:1 blend is mildly psychoactive. Indicated for the regulation of body systems such insomnia, blood pressure, diabetes. Also great for glaucoma, pain management, fibromyalgia, cancer treatment mitigation.
TreatWell's THCA tinctures are non-psychoactive and have a very high terpene content. THCA is a non-psychoactive, acid based compound found in the raw cannabis plant. It has been shown to be a powerful anti-inflammatory, analgesic (pain reliever), neuroprotectant and antispasmodic.
Mildly psychoactive in larger quantities and targets pain, fibromyalgia, insomnia, appetite stimulation, autism, Alzheimer's and cancer.
Non-psychoactive and targets neurological issues (such as anxiety, migraines, epilepsy), minor muscle soreness (such as menstrual cramps) and mild inflammatory issues.
Little to no psychoactivity and targets auto-immune conditions (such as Crohn's, IBS, colitis, lupus) and promotes overall wellness and balance to your body.
Pet Tincture 20:1
Non-toxic and non-psychoactive for pets. It targets anxiety, arthritis, mild pain, hip dysplasia, inflammatory issues (such as pancreatitis) and seizures.
THC: 22.6% CBD: 56.6%
THC: 41.7% CBD: 38.5%
CBD Rich Tincture 1:1
Non-toxic and non-psychoactive in small doses. It targets appetite stimulation, cancer, severe pain, topical skin conditions and end of life care and comfort.