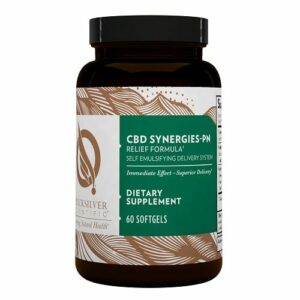 Piperine, an extract of black pepper, boosts the bioavailability of each element of our formula.
The sophisticated centerpiece is a CBD-rich, clean, THC-free broad-spectrum hemp extract, which is boosted by beta-caryophyllene to further enhance CBD (cannabidiol) action.
CBD Synergies-SP: Ease Into a Deep Restorative Sleep
Quicksilver Scientific's liposomal delivery systems improve upon basic liposomal technology, by their smaller, more stable, single-layer spheres, made from the highest quality ingredients available.
Quicksilver Scientific's proprietary curcuminoid complex, a blend of curcumin and precious turmeric essential oils, works synergistically with Boswellia extract to support gut and joint health.
CBD Synergies–AX: Zen in a Bottle, 50 mL for $78.50
CBD Synergies-SP Sleep Formula, $68.50 (50 mL)
For Serving Size, Suggested Use and CoA click here.
Balance brain activity and support mood, memory, and ease tension, improve your quality of sleep giving your body a chance to rest and repair, and turn
Quicksilver Scientific Nanoemulsified Hemp Extract
Servings Per Bottle: 25
Ingredients: Full Spectrum Hemp Extract, water, glycerin, ethanol, vitamin E (as tocofersolan and natural mixed tocopherols), phospholipids (from purified sunflower seed lecithin), natural citrus oils and natural flavoring.
Product Description
Start with a small amount (1.6-4 mg) once a day and slowly titrate (ramp) up every 3-5 days. First start by adding an additional usage in divided doses up to 3 times per day. Continue to increase the amount of each usage till you get the desired healing opportunities.