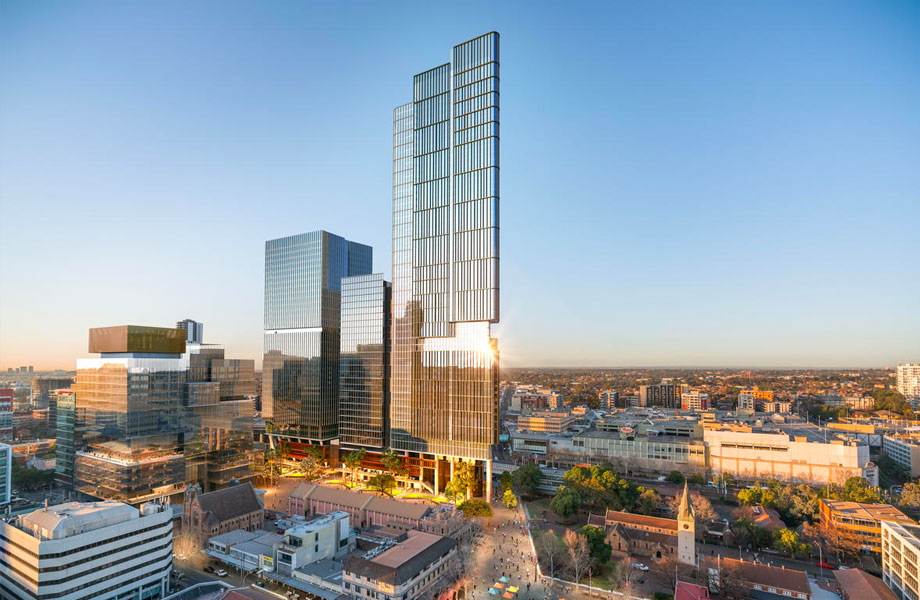 Walker Corporation, led by Lang Walker, won the tender for the Parramatta Square development in 2015, beating out Centurion Custodians, Dyldam and Leighton Properties, and is now on track to deliver more than 290,000sq m of commercial space.
Parramatta Square, a multi-billion-dollar urban renewal project set to transform Parramatta's city centre into Sydney's second CBD, is beginning to take shape.
The project includes a new University of Western Sydney campus, four new A-grade commercial buildings and a new civic centre.
Spanning a three-hectare site, the $3.2 billion Parramatta Square precinct will deliver six buildings, as well as a refurbished Town Hall.
When realised, the project will feature the largest commercial office building in Australia, as well as 6,000sq m of public domain across the Parramatta Square masterplan.
The masterplan is expected to accommodate a surging locality consisting of 23,500 workers, and will see Parramatta City rival Sydney's CBD, with a total of $8 billion to be invested city-wide in buildings and infrastructure over the coming years.
As well as the university campus and commercial buildings, the mixed-use precinct includes retail space, community facilities, a community centre, library and a 250-metre-long public esplanade.
Macquarie Street car park
Council has entered into a Project Delivery Agreement with Toplace, the preferred development company for the Macquarie Street car park site. With an expected completion date of 2019, the council will receive approximately 700 spaces to address their car parking strategy.
The Parramatta CBD is set to undergo a major transformation over the next 5 years, underpinned by unprecedented levels of public and private investment, particularly in property.
The Lennox
The Lennox is one of the many residential development projects emerging in Parramatta's CBD. Positioned next to Parramatta River, the former Lennox Bridge carpark is being transformed into a luxury riverfront precinct. Residents will have access to a club floor with a lap pool, gym, an enclosed sun terrace with river views, gardens with entertainment spaces. Additionally, a new public boardwalk will offer dining options along the riverfront.
Delivery phase
City of Parramatta's Property Development Group oversees and leverages value and city-shaping opportunities for a range of council owned sites. In the Parramatta CBD alone, this includes carparks and vacant sites. These sites allow Council to unlock value, optimise potential and grow a property and investment portfolio.
Parramatta Square
Occupying more than three hectares in the heart of the CBD, Parramatta Square will be a world-class landmark and destination. The precinct will comprise of six new buildings, including a refurbished Town Hall. More than 6,000m 2 of public space will create a place for people to meet, shop, dine, learn, celebrate and connect.
Council Owned Sites
Riverbank
Located on the foreshore of the Parramatta River, the $1.2b Riverbank urban renewal project will create globally recognised riverfront precinct and become the City's cultural heart. It has been selected as the location for the new Museum of Applied Arts and Sciences also known as the Powerhouse Museum. Once established, the Museum has the potential to draw up to a million visitors a year to Parramatta.