NF Skin is a private-label CBD company for various skincare and nutritional products. My largest project was spearheading a total rebrand. My goal was to refresh, modernize and make the brand bolder. The biggest challenge was to remain recognizable while maintaining the private-label DIY aspect.
I wanted to keep a clean, professional look with an in-your-face punch. At the time, CBD was relatively new and misunderstood, so I kept graphics and text playful to give an approachable feeling. I created the hemp-leaf icon as a simplified redo of the old logo. I wanted to emphasize CBD and create a quick visual representation of the company. I used the YOURBRANDHERE logo on all company mock ups so clients could envision their own design without distracting with our branding.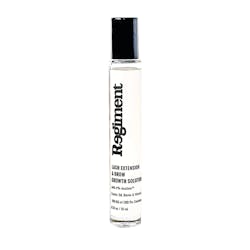 This vegan formula supports the lashes and brows for a fuller look.
CBD, AnaGain growth stimulating formula and PhytoCellTec plant stem cell formula combine to support eyelashes and brows. The vegan formula is free of sulfates, parabens and gluten, and it's a natural option for encouraging the growth of longer, fuller lashes and arches.