Key characteristics of CBD Blemish Control:
Chronic pain affects roughly one fifth of the world's population. In the US alone, 75 million people struggle with the debilitating effects of joint, muscle and nerve pain every day. Nonsteroidal anti-inflammatory drugs (NSAIDs) and other traditional options may provide short-term relief but they often come with potentially serious side effects—forcing those who suffer to settle for less effective options, simply to mitigate the added health risks.
Myaderm's transdermal pain products use the therapeutic properties of Cannabidiol (CBD) for fast acting, all- natural pain relief. Made with absolutely pure CBD and all natural pharmaceutical grade ingredients for long lasting pain relief. No side effects. Myaderm is safe for daily use to reduce inflammation and pain without worrying about negative side effects using the power of CBD.
"Through in-depth studies and extensive real world testing, we know CBD Blemish Control will disrupt the current blemish and acne treatment market by providing a solution that is more effective and gentler on skin than alternatives," said Eric Smart, CEO of Myaderm, a Colorado based company that uses proven pharmaceutical technologies to create innovative cannabinoid products.
Variable controlled test participants using CBD Blemish Control reported:
CBD is a non-psychoactive cannabinoid found in the cannabis plant. It is 100% natural and has clinically studied therapeutic benefits in multiple areas. Myaderm is a leader in the application of proven pharmaceutical technologies that deliver CBD safely and effectively for pain and skincare conditions.
Learn more here: http://cbdblemish.com/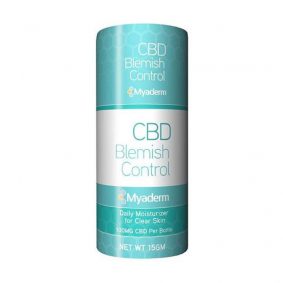 Let's get straight into it.
4.17 / 5
Myaderm CBD Blemish Cream
This product is specifically formulated for one purpose — to reduce the size and redness of blemishes on the face. This product comes from a brand that specializes in this area and knows what they're doing.
This company does one thing, and one thing only — CBD-infused skincare products. We like the specialization of this company because it allows them to focus 100% on this particular use. They've formulated a variety of high-grade skincare products with carefully thought out formulas and top-notch ingredients.
Product Variants
Myaderm claims to use organic ingredients, which would be great—but they don't back it up with any sort of proof. With that said, they do provide detailed lab testing for every batch that leaves there facility. We sifted through a few of these and couldn't find any failures whatsoever — everything passed with flying colors.