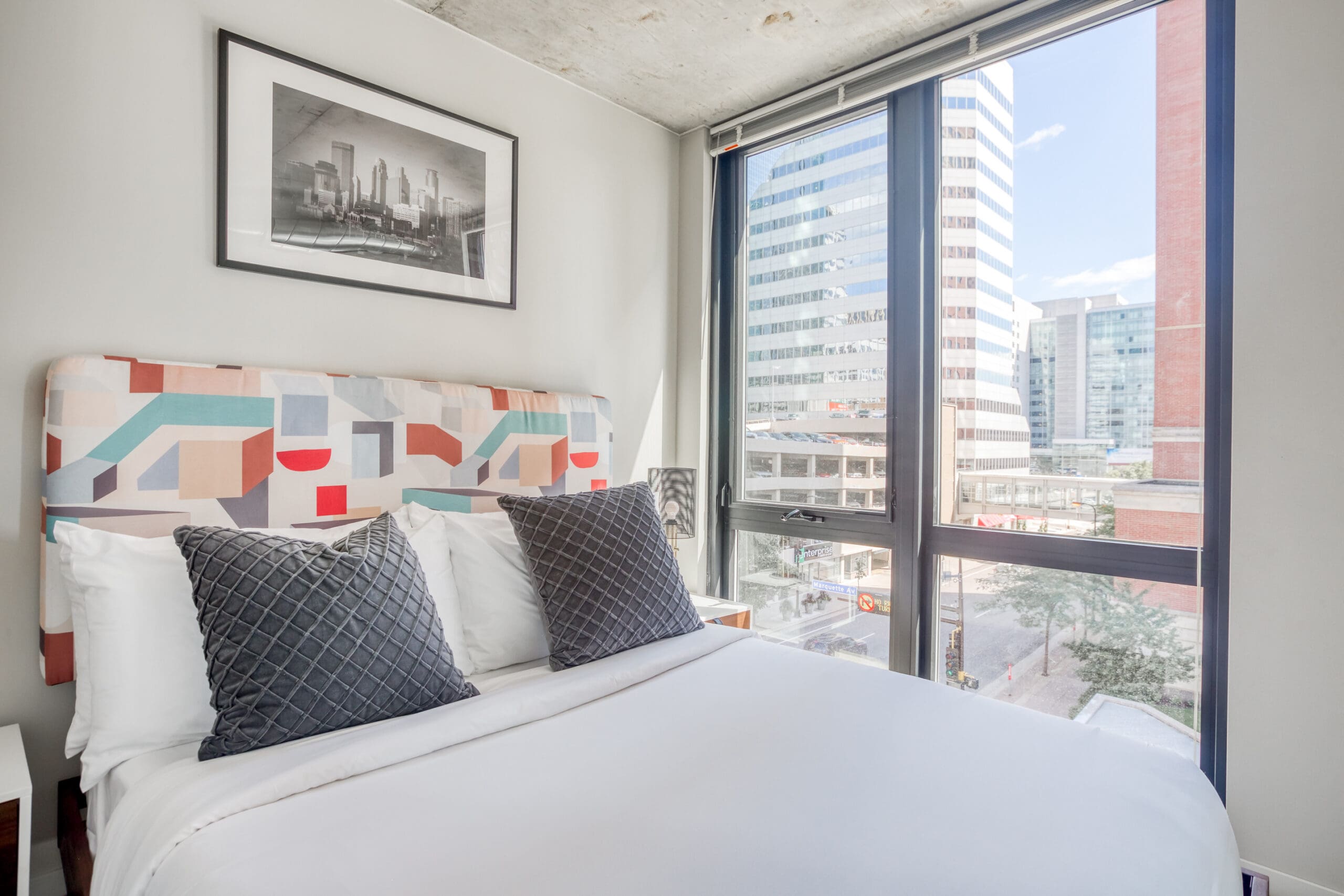 Just off of 10th street and Marquette Avenue, Mint House Minneapolis – Downtown West boasts a bright, eclectic style and welcoming feel. Stick to routine with a workout in the state-of-the-art fitness center, or unwind in the Sky Lounge with impressive views of the Mississippi River.
Mint House Minneapolis – Downtown West offers modern apartments with three times the space of a hotel room, full kitchens and spacious living areas.
Ultra-comfortable and expertly curated for work, play and everything in between. Instant assistance and local recs are just a text away with our 24/7 digital concierge service.
The Central Business District has many extravagant dining options, especially when it comes to steaks! Try Murray's Steakhouse for lovingly prepared cuts of beef and classic cocktails. The Hennepin Ave outpost of The Capital Grille offers classy décor, classier service, a great wine list, and dry-aged, hand-cut steaks. (Local tip: their Signature Cheeseburger is among the best in the city.) Manny's Steakhouse is loved by locals and is a go-to for special occasions of all kinds. While The Oceanaire Seafood Room excels at seafood, it also serves up steaks with flair and an impressive wine list. Seven Steakhouse Sushi & Rooftop overlooks one of the busiest intersections in downtown and offers steaks, sushi boats, and smoked cocktails.
If you're driving, be aware large number of downtown Minneapolis' streets are one-way. Double check you're going the right way before making a turn. Also, it is forbidden to drive on the Light Rail tracks or on Nicollet.
Minneapolis Skyway System
The Hampton Inn & Suites is a relatively new three-star option literally one minute from both the theater district and Target Center. The Embassy Suites by Hilton is housed in the landmark Plymouth Building and offers complimentary breakfast, Wi-Fi, evening receptions and in-room fridges and microwaves. Boutique property The Chambers Hotel sits just steps from all the theaters in the district and just down the street, AC Hotel by Marriott, is a strong contemporary option, with complimentary Wi-Fi and easy access to Target Center, US Bank Stadium, and the Theatre District.
Free parking is rare, but possible. Some meters in downtown aren't monitored after 6 p.m. on weekdays, or at all on weekends, however most are monitored until 10 p.m. or later seven days a week. Each meter will clearly state hours of enforcement. Be aware that a flat $25 rate is enforced for certain events (Twins and Vikings games, etc), no matter how long you plan to park. For detailed information, check the interactive Minneapolis Street Parking Map.
Where to Stay
First Avenue had already cemented its legacy as one of the top live music venues in the country before Prince used it as a location for key parts of his 1984 film "Purple Rain." The incredible history of this club is literally written on the outside walls of the building. Since 1970, artists including Tina Turner, Ray Charles, BB King, The Cure, The Replacements, U2, REM, Run DMC, Public Enemy, Nirvana, Rage Against The Machine, The Beastie Boys, Radiohead, Coldplay, The White Stripes, and virtually any other popular artist you can name have rocked out on the First Ave stages. (Looking for something more intimate? The neighboring 7th Street Entry is First Ave's smaller, live music sister venue.) The Dakota Jazz Club is a historic music venue/restaurant combination on Nicollet Mall, with a reputation for hosting a wide variety of artists including Lucinda Williams, Bob Mould, Cowboy Junkies, Angelique Kidjo, Mavis Staples, Mike Doughty, Anoushka Shankar, Aimee Mann, and Ronnie Spector. Prince liked to frequent the Dakota as both guest and as performer, which is about as high praise as a place can get. Just down Nicollet is Orchestra Hall, home to the distinguished, Grammy Award-winning Minnesota Orchestra, who stage roughly 175 performances each year. Less than a 10 minute walk away you'll find the historic Foshay Tower, the tallest building in the midwest for 48 years (now home to the W Hotel). Head up to the 31st floor observation deck for some breathtaking 360-degree views of the city and visit the museum to learn about the skyscraper's history and its quirky architect.