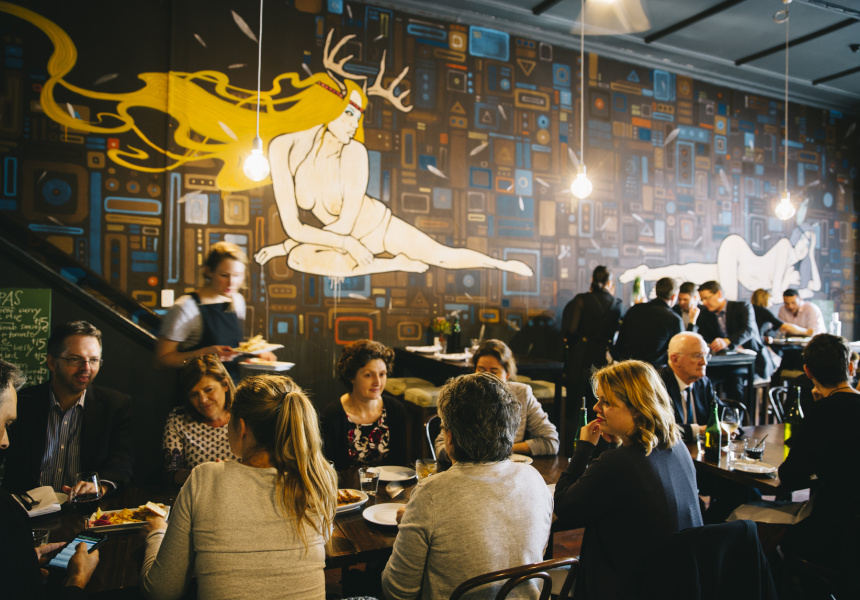 Melt's menu, led by Executive Chef Scott Kuerschner, focuses on quality produce and simple flavours. The menu has barely changed since the beginning, with only slight seasonal alterations. Favourites include the Queen Margarita and The Turk (lamb, pine nuts, pomegranate, provolone, yoghurt, mint and sumac).
The wine list is small, but special. As well as a range of bottles from names such as Geoff Merrill in South Australia, Pooley in Tasmania and Warramate in Victoria, there's a selection of wines from Italy, Portugal and Spain to match the Mediterranean flavours in the food.
Back in 2005, Simon Kardachi and his team (Press* Food and Wine, Bread & Bone, Osteria Oggi) wanted to create a more accessible counterpart to their fine dining restaurant next door, The Pot Food and Wine. And so Melt pizzeria was born. A CBD location followed several years later.
No experience at Melt is complete without ordering something from the rotating selection of tapas, which are all less than $15 a piece. Tried and tested highlights include baked gnocchi with cream, peas, pesto and spinach; and roasted pork belly with cauliflower and Tilsit cheese puree. Groups of eight or more are restricted to the share menu, at $39 per person.
Alternatively, the range of international and local craft beers and classic cocktails will complete the meal just as nicely.
This restaurant has not yet been claimed.
Notice
You need to be logged in to claim a company
Amenities
You can easily get a reservation done with calling the restaurant (+1)61882116723.