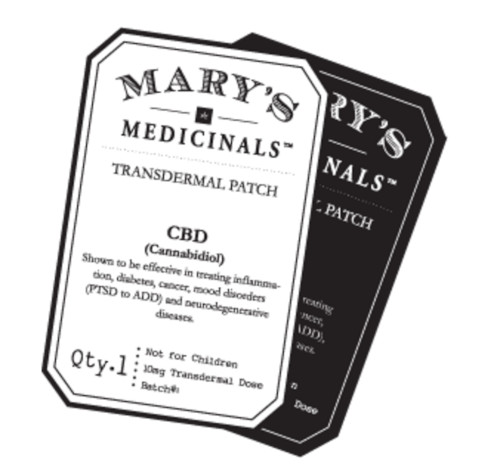 While this proprietary line of medicinal patches is spreading quickly through the cannabis community, and putting Mary's Medicinals on the map, the company has a number of equally revolutionary products on the market.
Both a nagging ache in my shoulder, and a lifelong knee pain simply disappeared. I had suffered for years, and gotten used to the soreness, so it was a pleasant surprise to get some relief I didn't bargain for. These effects wear off about 4 or 5 hours after applying the patch, but you can then light up a bowl and keep the medicine flowing. Seriously, a joint or a vape pen hit are exquisite after your patch starts to wear off. The 20 mg. THC patch was designed primarily for recreational users, and it will keep you comfortably medicated for half the day. Our test of the Sativa patch proved to be the perfect focus for daytime use, more of a natural pick-me-up – Mary's non-drowsy formula, if you will.
Mary's Medicinals New Products
Mary's Medicinals innovative topical and transdermal products have won many awards, including the Cannabis Business Awards 2014 Invention of the Year and Best New Product at the prestigious High Times Cannabis Cup. We couldn't agree more – transdermal products with precise dosing and maximum effectiveness are here to stay.
If you're at all curious about exploring these products in more-depth, you should definitely check out the Mary's Medicinals website, where you can see how the founders are dedicated to natural pain-killing techniques and cutting-edge cannabis medicine. Their slogan, "For us, it's simply black and white" is reflected in their simple philosophy and in their elegant, old-timey black and white web pages that hark back to 100 years ago.
Do Mary's Medicinals Transdermal Patches Work?
The best part about Mary's revolutionary new way to administer marijuana is the head-spinning array of choices. If we're just talking about transdermal patches (don't worry, I'll get to the other exciting products shortly), you can get the 2 "x2" medicated patch in the following varieties: 10mg of CBD , CBN , THC or CBD/THC; and 20mg of indica or sativa.
Final Verdict – 8.5/10
The patch Mary's Medicinals created in 2013 was apparently the world's first cannabis transdermal patch. The brand uses cannabis extract in its products, so they aren't available in every state. You require a medical marijuana card to purchase these products unless you live in a state where the plant is recreationally legal. If you want to buy CBD from hemp, check out the brand's sister company, Mary's Nutritionals.
In most of our reviews, we recommend purchasing products from a brand's official site. However, in this instance, it is impossible to buy Mary's Medicinals products online. Instead, you can only make a purchase via a licensed dispensary in states where medical or recreational cannabis is legal.
According to the brand, most users feel the effects within 15-30 minutes, and you may experience benefits for up to 12 hours. The patch contains cannabis extract, naturally derived terpenes, and eucalyptus. Mary's Medicinals also sells patches with the following cannabinoids:
Where to Buy Mary's Medicinals Products?
Yes! Mary's Medicinals CBD range also includes a product called 'FORMULA Sublingual Oil 4:4:2:1:1. This is the ratio of CBD, CBG, CBN, THC, and THCa it contains. There is a total of 600mg of cannabinoids in the bottle, divided as follows:
If you've never visited the Mary's Medicinals website before, you might get a little confused when searching for the CBD tincture. Indeed, we did a double-take when analyzing the brand for our Mary's Medicinals CBD oil review.
It performs in-house testing on raw materials, extracts, and final products. It also works with third-party labs to validate the quality of what it sells. You can see the COAs on the Mary's Medicinals website. Botanacor seems to conduct much of the testing, and in general, the lab reports are from the last few months.
Full Mary's Medicinals Review
According to the brand, the pen is "one of the fastest-acting, most accurately dosed cannabis products available." Initially, it contained just 100mg of CBD, but Mary's Medicinals have increased it to 200mg. It says there are 50 x 4mg doses in each pen, and it has an onset time of 5-15 minutes. The brand claims the product is effective for up to six hours.
The list of ingredients is short: The pen contains nothing but cannabis extract, naturally derived terpenes and a transdermal gel base. Make sure you clean and dry your skin before using the pen. Twist the end to unlock and depress to dispense a carefully measured 4mg dose.