Now Lune is opening its long-awaited second store in the CBD. And you can practically hear Melbourne holding its collective breath. The foodie news doesn't get much bigger than this.
The right space turned out to be an old Indian curry joint on Russell St (Lune's CBD address is technically 161 Collins St, but the entrance is on Russell, opposite the Grand Hyatt). Kate says the build took them about two months, getting rid of the old plastic signage and installing a little Fitzroy brutalism: that classic Lune mix of brushed concrete, LED strip lighting, polished black glass and Melbourne monochrome.
"One thing we didn't want to do was expand at the expense of quality," says Kate. "That was a non-negotiable."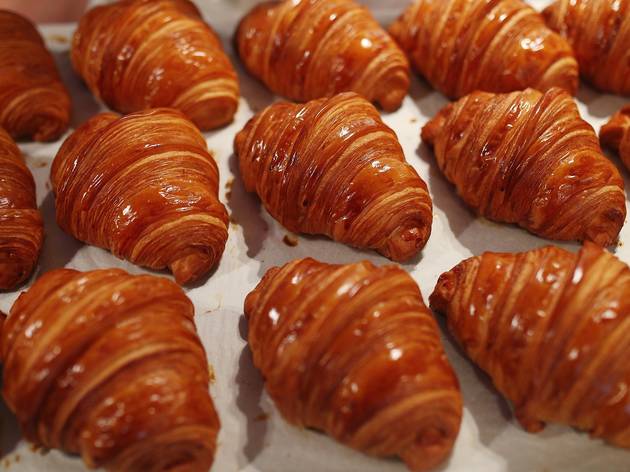 Fitzroy's best-known warehouse bakery has made quite the name for itself in recent years. Run by brother-sister team Kate and Cameron Reid, Lune Croissanterie creates almost mathematically perfect croissants in their climate-controlled lab, each crisp and golden with visible layers of delicate pastry.
The store is small, sunk back into Russell Street with huge glass windows that has those lining up almost licking the panes in anticipation. There's no seating inside, just a high marble table for that European, standing-room-only vibe. The majority of the croissant prep is done at the Fitzroy warehouse before the pastries are transported to the city for baking and selling.
The smell is what gets you. By baking in-store the air is filled with a rich, butter-heavy scent that is impossible to resist. Lune is selling a condensed variety of what's available in Fitzroy, but it includes best sellers like the lemon curd cruffin, almond croissant, pain au choc and the signature, plain croissant.