While looking for cheap CBD, you should make sure to compare prices for similar products and potencies. Certain brands may offer special deals or sizes for a lower price in certain cases, but if you notice a product's price is way off from similar CBD oil options from other brands, it might be too good to be true. Again, you are looking for affordable CBD, not the cheapest option out there.
Every human has an endocannabinoid system that works to regulate bodily functions and sensations. The endocannabinoid system contains two receptors, CB1 and CB2. The CB1 receptors that are found throughout the body work to regulate pain, emotion, movement, thinking, appetite, memories, and other functions. CB2 receptors are located within the immune system and work to regulate inflammation and pain. When a full spectrum oil enters into the body, the trace amounts of THC will latch onto the CB1 receptors while CBD will attach itself to both the CB1 and CB2 receptors to help the body maintain a state of homeostasis.
How much CBD a tincture contains will determine how strong it is. The more CBD, in milligrams, per milliliter in a product, the more potent the tincture will be. The strength and potency of the product you choose should be determined by both your experience with CBD and what you are trying to accomplish with it. For example, if you have extreme pain from a chronic health condition, you will want a stronger, more potent CBD oil. Conversely, if you're new to CBD or only want to support your overall wellness and health, then you will want to go with a lower strength.
Extraction Method
How to Read Labels
Each product featured here has been independently selected by the writer. You can learn more about our review methodology here. If you make a purchase using the links included, we may earn commission.
Customer Reviews
Check both the brand's site and online for verified customer reviews. These can tell you how the product worked for other users and whether or not it helped provide any benefits. If you can't find any reviews or additional information on a product, it might be better to choose one that has been tried and tested by other actual customers first.
​Best Full Spectrum: CBDistillery
Why buy: Not only is CBDistillery one of the most trusted CBD brands out there, they are also one of the most affordable. We like their Relief + Relax Full Spectrum CBD oil because it made using the aerial parts of non-GMO, U.S.-grown industrial hemp for a dependable full spectrum oil. The 17 mg strength is a good place to start if you are new to CBD as it will allow you to begin with a relatively low dose to see how it affects you. We also love CBDistillery's CBD gummies.
Always remember to start low and go slow. The best general guideline to follow is to begin with 5 mL, or half a dropper full, once a day for one week. After a week has elapsed, see how you're feeling. If you aren't achieving your desired effect, then you can increase the dosage to half a dropper full twice a day for one week. After the week has passed, increase again if needed. Remember, your body needs to adjust to the CBD and that CBD typically works best by building up in your system over time.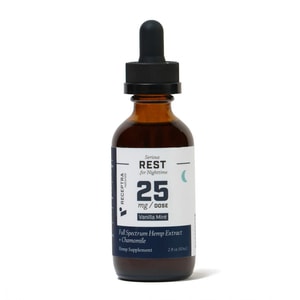 Click the button below to go to the Joy Organics website:
Therefore, when you're comparing prices between CBD products, you want to make sure that you take these minor cannabinoids and terpenes into account.
Scientific Sources
Want to test the waters?
Why You Have to Be Careful with Cheap CBD Products
Click the button below to go to the R+R Medicinals website: