For those in states where it is not legal, however, the CBD available is derived from industrial hemp, which is cannabis with a negligible amount of THC. This makes it impossible to modify the ratio as there is no THC present, which means there are fewer products to choose from. And since there is no FDA approval of these products, it can be hard to trust that what you're buying actually is what's advertised.
Giacobbe is just one of many older adults who now use CBD as a treatment — both with and without a prescription — for mental and physical health issues. As of March 2018, in Colorado, one of nine states in which marijuana is legal for recreational use (the others being Alaska, California, Maine, Massachusetts, Nevada, Oregon and Washington, as well as the District of Columbia), people 50 and older now make up more than 36 percent of patients on the medical marijuana registry.
by Garrett Schaffel, AARP, June 7, 2018
The compound from marijuana plants shows promise for age-related health problems
CBD, which comes in a wide variety of forms including salves, edibles and oils, does not produce the high typically associated with marijuana. But CBD seems to help people deal with pain, inflammation and even seizures, although even medical researchers and professionals aren't sure why it works, how it works or even how much to use for what ailments.
Clinical trials both in the U.S. and around the world have shown that CBD works. The compound has been proven to dramatically reduce seizures in children with rare forms of epilepsy, and in 2017, GW Pharmaceuticals submitted Epidiolex, a pure CBD plant extract, to the FDA for approval as an epilepsy drug. It received a recommendation for approval from an administration advisory panel in April.
Boomers are turning to CBD oil for pain management and other health issues.
"We see really great interest amongst seniors," says Martin Lee, director of the Northern California nonprofit Project CBD, which promotes the use of the compound as a natural alternative to traditional forms of drug therapy.
Even as CBD's popularity has grown, the medical community is still not sure how it works scientifically. "It clearly has some anti-inflammatory effects, but the exact mechanism is still not known," says Pal Pacher, a pharmacologist and cardiologist at the National Institutes of Health, who has conducted studies on the compound.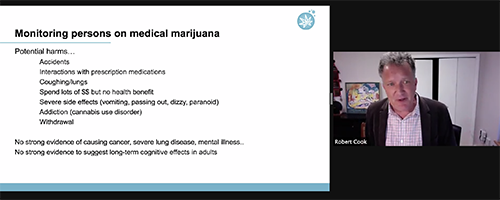 The Integrative Pain Management Series for Health Care Providers, hosted by the Aging and Integrative Pain Assessment and Management Initiative (AI-PAMI), specifically addresses pain management issues unique to the aging population, such as cognitive impairment, falls, medication side effects and polypharmacy.
The presentation, Understanding Medical Marijuana and its Potential Benefits and Harms in Older Adults Living with Pain, focused on fostering understanding about various medical marijuana products in the state of Florida and its application for pain management within the older adult patient population.
On Tuesday, February 23, 2021, Dr. Robert Cook and Dr. Yan Wang presented for the Integrative Pain Management Series for Health Care Providers on medical marijuana and its effects on chronic pain and related health outcomes.
Learning Objectives from the Presentation:
Dr. Wang also provided an overview of recent medical marijuana research along with findings from a pilot study focused on older adults with chronic pain newly initiating medical marijuana use.
Health care providers learn how to help patients incorporate non-medication therapies into their pain management plan, including aromatherapy, dry needling, meditation, virtual reality and more, with the goal of increasing patient safety and quality of life.
AI-PAMI is a comprehensive project addressing non-opioid pain management in adults ages 50 and older living in Northeast Florida. The overall goal of AI-PAMI is the advancement of innovative pain education and patient care focused on multimodal and integrative pain management. The project encompasses community outreach, education and research.