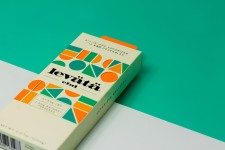 Note: These statements have not been evaluated by the Food and Drug Administration. This product is not intended to diagnose, treat, cure, or prevent any disease.
Levätä Product Line and Pricing
"We have aggressively priced the Levätä product line to provide as many CBD consumers as possible with a high-quality, affordable alternative to traditional cartridges or pods," said Ray Utech, VP of Finance at ilo Vapor. He continued, "Levätä's CBD Doseables package is priced at the equivalent to The CBD Kit and CBD Doseables are available immediately with MSRPs of $59.99 and $39.99 respectively. Initial distribution channels for Levätä include levatacbd.com and select national and local specialty CBD retailers. Additional channels in North America and Internationally are planned throughout the remainder of 2019..04 per mg of CBD, a price point that is extremely competive."
PORTLAND, Ore., October 17, 2019 (Newswire.com) – Iconic Ventures, Inc., the parent company of ilo Vapor™, is pleased to announce the launch of its Levätä CBD wellness brand. Levätä, meaning "to take rest," is a brand focused on convenience, quality, and consumer well-being.
The Levätä product line announced today provides CBD consumers with a clean, convenient, and rigorously tested alternative to traditional cartridges and pod systems. Levätä products are combustion-, toxin-, and lead-free – providing a truer and healthier experience.
Levätä's CBD Doseables package contains 20 CBD doseables for a total of 1000mg of CBD per package. As with the CBD Kit, CBD doseables are supplied in a certified child-resistant storage container. CBD doseables retain the full-flavor, full-spectrum qualities of CBD for a superior experience over traditional cartridges or pod systems.
About DabTabs Technology
"We are thrilled to make Levätä available to CBD consumers looking for extraordinary quality at very attractive price points," said Greg Lynch, President and Sales Director at ilo Vapor. He continued, "Our initial distribution will be augmented by additional channels worldwide in the coming months."
"CBD has tremendous potential to improve wellness in a variety of areas and consumers deserve access to it without additives," said Michael Lindars, Co-founder and CEO at ilo Vapor. He continued, "We are proud to offer consumers convenient, affordable access to high-quality CBD through Levätä."
Founded in 2016, ilo Vapor™, a division of Iconic Ventures Inc., has been quietly developing groundbreaking new technology for cannabis consumption, engineering innovative products that deliver unparalleled vaporization experiences. ilo Vapor is a Portland, Oregon based technology, brand, and product development company that engineers patent-pending vaporization technology solutions.
For further information regarding Halo, see Halo's disclosure documents on SEDAR at www.sedar.com.
TORONTO–( BUSINESS WIRE )–Halo Labs Inc. ("Halo" or the "Company") (NEO: HALO, OTCQX: AGEEF, Germany: A9KN) is pleased to announce a collaboration with ilo Vapor™ ("ilo") to launch Levätä™, an alternative wellness brand focused on utilizing DabTabs™ technology to create a unique measured dose cannabinoid ("CBD") consumption solution. Levätä™ CBD dosables are infused with precise percentages of CBD and botanically derived terpenes, allowing consumers to accurately control and measure their CBD consumption. To compliment the experience, the Levätä™ collection will also include a vape pen styled device custom made for DabTabs™ dosables, which utilizes the DabTabs™ Go technology developed by ilo.
Cautionary Note Regarding Forward-Looking Information and Statements
This press release contains certain "forward-looking information" within the meaning of applicable Canadian securities legislation and may also contain statements that may constitute "forward-looking statements" within the meaning of the safe harbor provisions of the United States Private Securities Litigation Reform Act of 1995. Such forward-looking information and forward-looking statements are not representative of historical facts or information or current condition, but instead represent only Halo's beliefs regarding future events, plans or objectives, many of which, by their nature, are inherently uncertain and outside of Halo's control. Generally, such forward-looking information or forward-looking statements can be identified by the use of forward-looking terminology such as "plans", "expects" or "does not expect", "is expected", "budget", "scheduled", "estimates", "forecasts", "intends", "anticipates" or "does not anticipate", or "believes", or variations of such words and phrases or may contain statements that certain actions, events or results "may", "could", "would", "might" or "will be taken", "will continue", "will occur" or "will be achieved". The forward-looking information and forward-looking statements contained herein may include, but is not limited to, Halo's launch of Levätä™ CBD dosables in the United States and Europe.
Halo expects to begin sales of the Levätä™ collection to retailers in October, leveraging its direct sales force in California, Oregon, and Nevada. Halo also intends to increase sales of Levätä through the online retail marketplaces and by partnering large distributors of cannabis peripherals in the United States and Europe.
"Consumers of cannabinoid products are becoming increasingly passionate about the wellness benefits of CBD," said Michael Lindars, CEO and Co-Founder of ilo. "The ability to merge our flagship product, DabTabs™ dosables, with CBD is the first of many strategic moves to introduce true, clean vaporization into this developing wellness space. We are excited about working with Halo to expand the reach of our DabTabs™ technology."
The volumetric accuracy of Levätä™ CBD dosables ensures that consumers can precisely measure their consumption through accurate dosing, another effort towards helping to standardize dosing in a growing industry.
Levätä™ shall not be held liable for the medical claims made by customer testimonials. The statements made regarding these products have not been evaluated by the Food and Drug Administration. The efficacy of these products and the testimonials made have not been confirmed by FDA- approved research. These products are not intended to diagnose, treat, cure or prevent any disease. All information presented here is not meant as a substitute for or alternative to information from health care practitioners. Please consult your healthcare professional about potential interactions or other possible complications before using any product. The Federal Food, Drug, and Cosmetic Act requires this notice.
Copyright © 2019 ilo™, Patents Pending | Privacy Policy Designed by Lucid Design