Ingredients: Organic Coconut Oil, CBD Distillate.
Lazarus Naturals CBD coconut oil is carefully formulated from hemp to create a versatile, high-quality product. Kosher alcohol is used instead of harmful solvents to extract CBD from the plant material, and then the resulting oil is distilled to produce a high potency hemp extract. The distilled hemp extract is then blended with organic coconut oil. Every batch is third-party tested for pesticides, heavy metals, and potency.
5omg of CBD per tsp.
Lazarus Naturals CBD coconut oil can be used in a variety of ways. The CBD is already activated, so it's ready to use right out of the jar. The hemp infused coconut oil can be used for cooking + baking, making skin care products, or may be applied directly to the skin or eaten. This is a great product if you are new to CBD, but are looking for a product that can be used topically or internally.
Vegan and gluten-free with no artificial flavors, preservatives or sweeteners.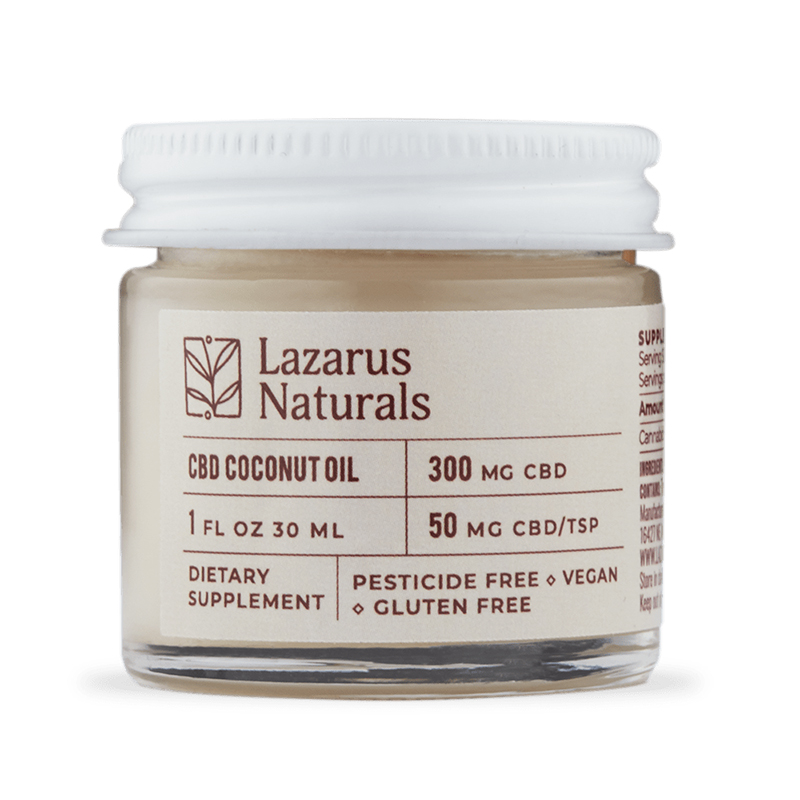 In addition to using this high-quality domestic hemp, the company provides extensive third-party testing of their products to verify their quality and safety.
Lazarus Naturals offers a full refund (minus shipping costs) or an exchange if you send a product back within 30 days of receiving it.
CBD-infused coconut oil is great for health-conscious people who want to combine the health benefits of these two popular natural remedies.
Key Features & Benefits
It's also an excellent option for those looking for a versatile CBD product that can be eaten, used sublingually, and applied topically to aid the skin and hair.
This coconut oil has a CBD potency of 10 mg/mL. This seems low until we consider you'll be using much more than one mL for most applications.
Product Variations & Flavors
Compared to other CBD coconut oils and CBD products in general, this product offers much more CBD for a similar price. Plus you're getting a jar of coconut oil as well. Simply put, this product has unbeatable value.
Lazarus also stands out for having some of the lowest prices in the CBD industry. It's so committed to making CBD products affordable that it provides a 60% discount to veterans, people with disabilities, and those will low-income.