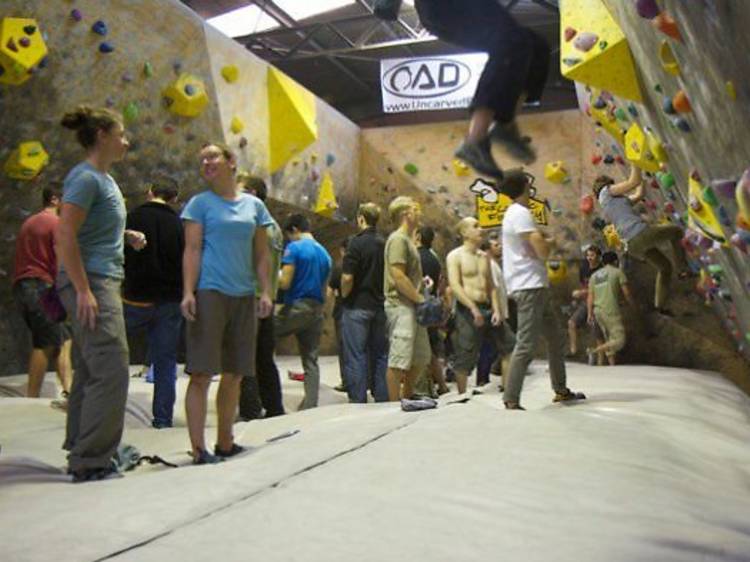 Bayside Rock has something for every climber. Under 13s will love Climb Time, a child-friendly area that provides 25 fully automated climbing stations that don't require parental supervision. Designed by an Australian national climbing champion, the top ropes section has 50 climbs that are 10 to 12 metres high. Entry includes access to both the top rope climbing area and the bouldering area.
There's plenty to entertain pint-sized punters in Melbourne. Rain, hail or shine, our guide will keep your crew out of trouble for an 'arvo.
3. The Lactic Factory
Northside Boulders comes from the same team that owns and operates the Lactic Factory in Abbotsford. The walls here are up to 4.5 metres high and are angled from inclined slabs to horizontal roofs. Northside also has food onsite to get climbers refuelled and refreshed to take on their next challenge. The space has the same signature furnishings and plants as the Abbotsford gym, and there are some wicked tunes to boot.
Get into a relationship with our newsletter. Discover the best of the city, first.
7. Latitude
The Lactic Factory in Abbotsford was Melbourne's first dedicated bouldering gym, and it's where a lot of our local climbers discovered their love of the sport. The gym features 3.8-metre high walls sloping at all angles, and they're all surrounded by soft mats in case you put your faith in the wrong climbing hold. When you're not climbing, there are plenty of nice spots to relax, with food and drink options available. Basic climbing gear is available to buy, and you can also hire climbing shoes if you don't have your own.
Mr Kilner said offers came from Tasmania, New South Wales and Victoria, with two mainland Chinese groups also making bids.
The dental specialist is understood to have paid $1.1 million for the suite, a rate of $11,704 sq m and plans to gut the space and refit to his specifications.
Colliers agents Chris Ling, Oliver Hay, Anthony Kirwin and Leon Ma are handling the expressions of interest but declined to comment on the vendor or the business.
Clement Lee
The project involves converting a 1950s red brick warehouse into individual work spaces. Half the Belrose South spaces sold out during lockdown in September last year.
38-40 Sheehan Road, Heidelberg West. Credit:
Dingley development
Stonebridge Property Group agents Rorey James, Dylan Kilner and Kevin Tong with Guy Naselli from NSL Property Group did the deal.
However, Mr Kilner did comment that the buyers had already seen the Sydney residential market take off and were expecting similar in Melbourne.