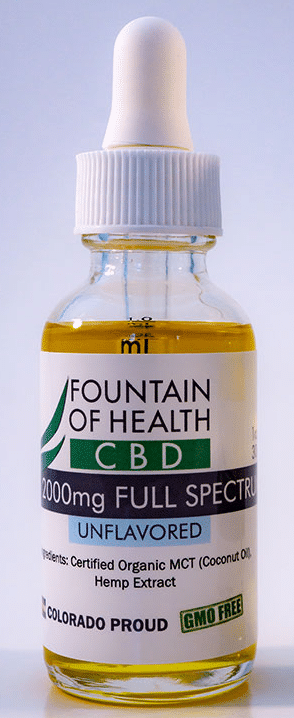 Fountain of Health CBD's Muscle Salve-ation is among the brand's popular products. It contains 500mg of full-spectrum CBD.
Looking for something different? See our top CBD Oil for 2021 .
There is no information on the Fountain of Health CBD website about its refund policy.
Fountain of Health CBD Oil comes in two sizes: 1 oz. which contains 2000mg of CBD and ½ oz. which contains 1000mg of CBD.
Cons of Fountain of Health CBD
Lab results for Fountain of Health CBD products are available on the brand's website .
According to the product page on Fountain of Health CBD's website, 1 oz. of Unflavored CBD Oil may contain 2000mg of CBD.
The product also has four different flavors, including unflavored, tropical mango, blood orange, and mint chocolate. The brand offers childproof and non-childproof containers for the product.
Recommended for Optimizing Wellness
Fountain of Health CBD sources its hemp from Colorado, USA.
Fountain of Health CBD started as a small family business. Two families run the company and both have a background in farming.
The processing of the hemp is very short and with light pressure, which may produce lesser oil but the output is cleaner and has less chlorophyll and lipids. Their goal is to produce the best hemp extract products out there. All of the products must also pass a third-party lab testing to ensure that there are no residues or contaminants.
Up next is the Cool Aid Muscle Roll-On, which has fewer milligrams of active cannabinoids (330 mg/oz instead of 500mg) but is composed of other oils like Menthol, Apricot , Tea Tree, and Camphor Essential Oil.
Fountain of Health: FOH CBD Oil, Pain Salve, Muscle Roll-On, Skin Cream and Lip Balm
Fountain of Health CBD prides itself for growing and producing the best hemp extract that, in turn, becomes the basis of their CBD oils and topicals. Their full-spectrum products have active cannabinoids unlike "isolate" products that utilize highly processed CBD in crystal form.
Fountain Of Health News Updates
The products of Fountain of Health CBD is made from hemp grown pesticide free in Colorado. It has been bred to have less than 0.3% THC and high in CBD. They use CO2 extraction, widely accepted to be the cleanest method of extraction, to produce the whole extract so that it can provide the full spectrum of Cannabinoids. The whole extract gets combined with coconut oil and at times, flavoring before being packaged and shipped to the customers.