There really is but one downside of CBD that keeps me from jumping 100% on board as a believer — the cost. Even buying at bulk, it's almost $1.00 a serving, which is a lot considering I buy generic ibuprofen in massive bottles. At the moment I'm on a tight budget, which means I'll be sticking to vitamin I until I notice issues with the side effects.. (ok, that is a bit concerning considering how much Ibuprofen I've been taking this year.
If you're unfamiliar with CBD oil, short for Cannabidiol, it's a popular natural remedy used for many common ailments. One of the compounds found in the cannabis (marijuana) plant, CBD oil is made by extracting CBD from the cannabis plant, then diluting it with a carrier oil like coconut or hemp seed oil. It doesn't feature the THC from cannabis responsible for the "high" which makes it popular as a natural alternative to Ibuprofen, but without the health risks. (risks and side effects of NSAIDs such as ibuprofen are known to cause ulcers, bleeding, or holes in the stomach or intestine, and increased risk of heart attack)
After enjoying the experience of a mild shoulder separation last month, (less than a month after a shoulder subluxation while rock climbing) I've been living that vitamin "I" — AKA Ibuprofin — life. I'm not crazy about the thought of what it's been doing to my stomach though, so CBDs sounded like a great alternative to managing the pain and inflammation.
Of course, the way I am, deciding to try CBD oils/gems also meant going down a rabbit hole of research.
Full Spectrum vs Isolate
In use, the effects of the gummies feels minimal. With the small sample size of ten 25mg servings, it was hard to get a sense of just how effective they were in terms of pain relief, so I tried taking 2, then 3 at a time. That said, I don't really notice the effects of ibuprofen either. It did take the edge off of aches and pains, but I did note took a few more to get a more noticeable effect.
CBD is available in two varieties: full-spectrum and isolate. Full-spectrum uses the entire plant and contains trace amount of THC. It's a small amount, but for folks that could be penalized for having small amounts of THC in your system, isolate is a better option. As you can probably guess from its description, they isolate the CBD from the rest of the plant to keep it free of THC. Personally, I'm more interested in the full spectrum as you'll get more noticeable benefits.
Nutrition Facts
Features
Floyds of Leadville Full Spectrum CBD gems are convenient and tasty options for getting a serving of CBDs in a easy to carry package. The cannabis edible company was founded by Floyd Landis, known for his prowess as a professional road cyclist, who found CBD products to be an ideal solution to both physical aches and pains, as well as stress, anxiety, and depression.
The CBD gems I've been using from Floyd's came in a 10 pack bag that sell for $12.99. (It breaks down to $1.30 a serving) If you buy it in the 6 count box option, it will run you $77.94, which makes it bit more affordable and breaks down to $.76 a serving.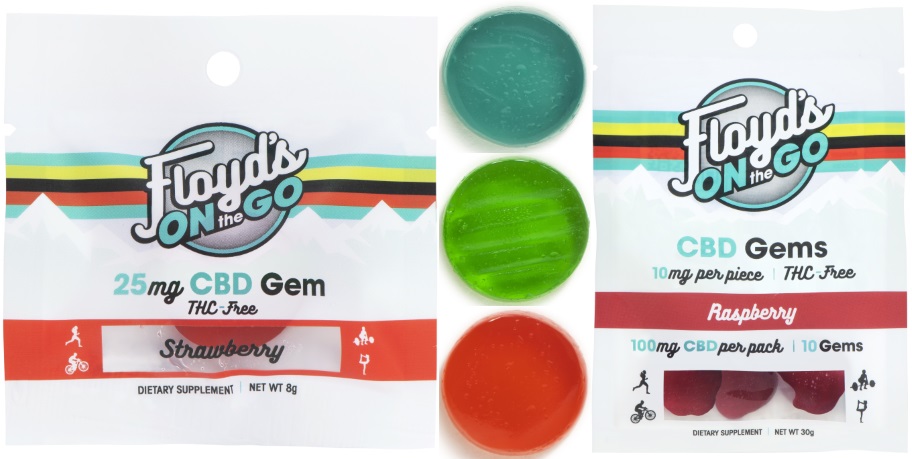 The gummy-style Gems offer highly portable CBD-infused tastiness in a variety of flavors and dosages, packaged individually or in sachets of five or ten. An ideal item for people that don't like the flavor of CBD tincture or swallowing gel caps, and their tasty flavors and portability mean an athlete will have a greater chance that these gummy Gems will be used during recovery phases when the anti-inflammatory effects are most beneficial.
It comes in 10mg CBD Gems in strawberry, raspberry, and cotton candy flavors, in 5 and 10 pack sizes.
Offering all the same benefits as Floyd's existing line of CBD products in a chewable form, Gems are easy to have on hand and available when you need them most. The CBD in Gems combats muscle aches & tiredness, inflammation and helps promote better sleep, just as in Floyd's other Isolate products. Read more about the science behind CBD here.
The benefits of their CBD products, whether tinctures, softgels, gummies, creams, or protein recovery powder, helps athletes deal with aches and pains, injury recovery and surgeries. The CBD ingredient offered relief, decreased soreness, pain alleviation, and overall relaxation after a hard day of hammering on the bike. Plus it has antioxidant, anti-inflammatory and anti-anxiety properties. Their new CBD Gem gummies will be effective, portable and easy to use tool for athletic endeavors.