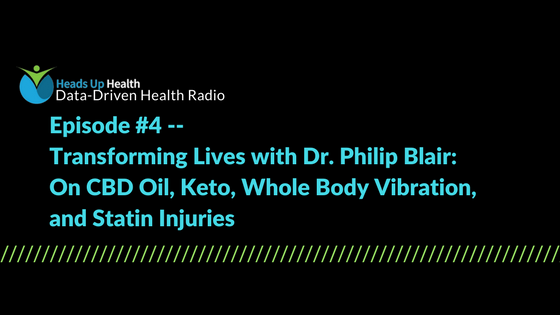 They all allow you to quantify your health in novel and powerful ways.
Click on the button below to start your free 30-day trial. Or, read on for more information about our latest podcast episode!
Learn more about Keto-Mojo, a highly accurate and affordable device for testing blood sugar and blood ketones. Check it out at HeadsUpHealth.com/Ketomojo .
You can learn more about the Oura ring, a state of the art ring that can track sleep cycle analysis, activity, and recovery at HeadsUpHealth.com/Oura .
About Heads Up Health
This podcast is brought to you by Heads Up Health, a web app designed to help you centrally track all of your vital health data. Instantly synchronize your medical records, connect your favorite health devices and apps and use your data to optimize your health!
Check out the interview on YouTube where Dave and Dr. Blair share screens and take a closer look at the data behind CBD oils:
All of these amazing products are integrated with Heads Up Health.
Watch on YouTube
Have episode suggestions? Email us!
In this episode, we chat with Dr. Philip Blair, a board-certified family practitioner and a retired military officer from West Point who does many things to help people transform their lives, including education about CBD oil, low-carb and ketogenic diet approaches, statin injuries, and disease management. He also provides consultations regarding cannabidiol (CBD) from industrial hemp.
Philip Blair, M.D.
Exactly. It's it was discovered, really identified and in 1992 as a result of looking at some of the THC receptors in the body. And it was realized that there was an entire system in the body from the brain and all tissues of the body that we're using cannabinoid substances that our body generates. And like any system, it has its synthetic, it has its receptors, it requires enzymes and transport molecules, and it has degradation enzymes as well. So it's a complete and total system within the body, affecting the brain and every organ of the body. And it its main purpose is to maintain homeostasis. It's not about doing one thing extremely, it's just about keeping a normal balance within the body and keeping the body balanced. Now, one of the things that is often overlooked is the understanding that the so called medical marijuana is really all about cannabidiol. That's the healing substance in it.
Transcript
Just thinking back to the first part of our conversation where you talked about homeostasis, and just because we have this endocannabinoid system that's hooked into all of our other systems. And it's related to appetite and sleep and mood. And all these things, I guess, is the mechanism of how this works, it's, it's going to bring you back to balance.
Philip Blair, M.D.
Philip Blair, M.D.