In 2018 researchers tested the efficacy of topical CBD gel on participants with osteoarthritis-related knee pain over the course of 12 weeks [10] Hunter D, Oldfield G, Tich N, Messenheimer J, Sebree T. Synthetic transdermal cannabidiol for the treatment of knee pain due to osteoarthritis. Osteoarthritis and Cartilage. 2018;26:S26. . Participants used either 250 milligrams or 500 milligrams, split into two applications, daily. Overall, participants' weekly pain levels didn't improve much with CBD compared to placebo. However, when researchers evaluated the average weekly worst pain scores and Western Ontario and McMaster Universities Arthritis Index (WOMAC) physical function scores, participants who applied 250 milligrams of CBD daily experienced significant improvement over placebo participants.
Already a proven analgesic for other conditions, CBD shows promise as an anti-inflammatory substance in both animal and preclinical trials, which bodes well for arthritis treatment [5] Nichols JM, Kaplan BLF. Immune Responses Regulated by Cannabidiol. Cannabis Cannabinoid Res. 2020;5(1):12-31. [6] Mlost J, Bryk M, Starowicz K. Cannabidiol for Pain Treatment: Focus on Pharmacology and Mechanism of Action. Int J Mol Sci. 2020;21(22):8870. [7] Kosgodage US, Mould R, Henley AB, et al. Cannabidiol (CBD) Is a Novel Inhibitor for Exosome and Microvesicle (EMV) Release in Cancer. Front Pharmacol. 2018;9:889. [8] Lowin T, Tingting R, Zurmahr J, Classen T, Schneider M, Pongratz G. Cannabidiol (CBD): a killer for inflammatory rheumatoid arthritis synovial fibroblasts. Cell Death Dis. 2020;11(8):714. . However, clinical research dedicated to CBD administration for arthritis is less robust and ongoing.
Various conditions and injuries that damage nerves or the nervous system can result in neuropathic pain. This kind of pain manifests as tingling, numbness, muscle weakness and a sharp, shooting, burning or stabbing pain.
Multiple sclerosis (MS) is a common cause of neuropathic pain. The disease wears down myelin, a mixture of proteins and phospholipids that coats nerve cells. Sativex is already approved as an MS treatment around the world due to its success in clinical trials. As a spray, Sativex is absorbed in the mouth. Studies support a median dose of eight sprays a day for patients with MS, which provides about 20 milligrams of CBD and 21.6 milligrams of THC [12] Sativex Oromucosal Spray – Summary of Product Characteristics (SmPC). Datapharm. Accessed 7/9/2021. . However, doses vary between patients, and each person needs to find their optimal dose.
CBD for Arthritis and Joint Pain
Without the intoxicating properties of its cousin delta-9-tetrahydrocannabinol (THC), cannabidiol (CBD) can provide the human body with a handful of health benefits. Cannabinoids like CBD interact with receptors in the endocannabinoid system, which plays a role in signaling bodily functions, from emotional responses to motor control to energy balance [1] Mouslech Z, Valla V. Endocannabinoid system: An overview of its potential in current medical practice. Neuro Endocrinol Lett. 2009;30(2):153-179. .
A 2019 study found Sativex to be an "effective and well-tolerated add-on treatment" for patients with severe chronic pain stemming from various ailments. The study identified three types of pain: nociceptive (affecting body tissue), neuropathic (affecting nerves) and mixed pain. Sativex helped treat all three kinds but proved especially effective against neuropathic pain.
For now, no CBD-based medications are approved as painkillers in the U.S. Epidiolex, which is used for rare forms of epilepsy, is the only CBD treatment approved by the Food and Drug Administration (FDA).
CBD for Chronic Pain
In clinical trials, Sativex, a spray with equal parts CBD and THC, proved significantly successful as an analgesic for cancer-related pain [2] Russo EB. Cannabinoids in the management of difficult to treat pain. Ther Clin Risk Manag. 2008;4(1):245-259. . The spray, also used for multiple sclerosis-related pain, is approved in Canada to treat cancer pain and is currently undergoing trials for approval and use in the U.S.
Getty Creative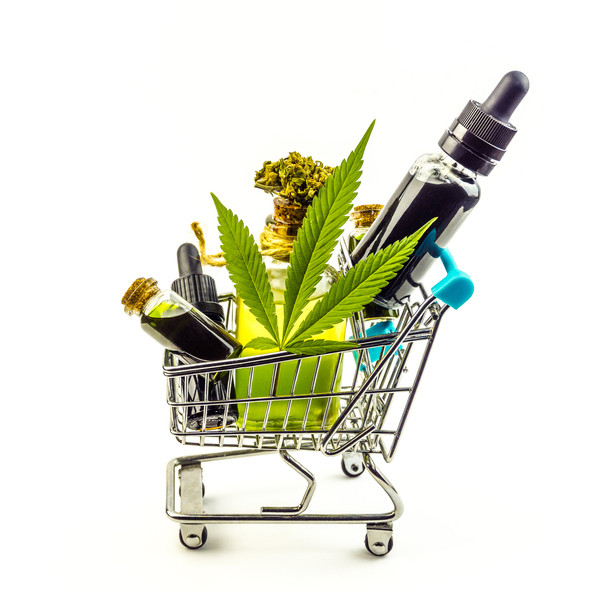 As a service to our readers, Harvard Health Publishing provides access to our library of archived content. Please note the date of last review or update on all articles. No content on this site, regardless of date, should ever be used as a substitute for direct medical advice from your doctor or other qualified clinician.
In fact, the FDA has issued several warning letters to companies and individuals that market unapproved new drugs that allegedly contain CBD. The FDA has tested the chemical content of cannabinoid compounds in some of the products, and many were found to not contain the levels of CBD the manufacturers had claimed they contain.
So far, pharmaceutical CBD is only approved by the FDA as adjunct therapy for the treatment of a special and rare form of epilepsy. Currently, CBD alone is not approved for treatment of pain in the United States. But a combination medication (that contains both THC and CBD in a 1:1 ratio) was approved by Health Canada for prescription for certain types of pain, specifically central neuropathic pain in multiple sclerosis, and the treatment of cancer pain unresponsive to optimized opioid therapy. There is currently no high-quality research study that supports the use of CBD alone for the treatment of pain.
Given its promising results in animal models, along with its relative safety, non-psychoactive properties, and low potential for abuse, CBD is an attractive candidate to relieve pain. Unfortunately, there is a lack of human studies about the effectiveness of CBD. However, there is an abundance of commercial advertisements about the magical effects of CBD, and it is frequently presented as a cure-it-all potion that will treat everything including diabetes, depression, cancer, chronic pain, and even your dog's anxiety!
Disclaimer:
If you ask health care providers about the most challenging condition to treat, chronic pain is mentioned frequently. By its nature, chronic pain is a complex and multidimensional experience. Pain perception is affected by our unique biology, our mood, our social environment, and past experiences. If you or a loved one is suffering from chronic pain, you already know the heavy burden.
Most importantly, CBD can interact with other important medications like blood thinners, heart medications, and immunosuppressants (medications given after organ transplantation), potentially changing the levels of these important medications in the blood and leading to catastrophic results, including death. Also, more information needs to be gathered about its safety in special populations such as the elderly, children, those who are immunocompromised, and pregnant and breastfeeding women.
Given the ongoing challenges of chronic pain management coupled with the consequences of the opioid epidemic, pain management practitioners and their patients are searching for effective and safer alternatives to opioids to alleviate pain. With the legalization of marijuana in many states and resulting cultural acceptance of this drug for recreational and medical use, there has been an increased interest in using cannabis for a myriad of medical problems, including pain.
Beware of powerful testimonials
Cannabis (most commonly obtained from the Cannabis indica and Cannabis sativa plants) has three major components: cannabinoids, terpenoids, and flavonoids. While there are over a hundred different cannabinoids, the two major components are tetrahydrocannabional (THC) and cannabidiol (CBD). Historically more attention has been paid to the psychoactive (euphoric "getting high") component of the cannabis plant, THC; there have been fewer scientific studies on the medical use of CBD, a non-psychoactive component of the plant.
If you or someone close to you is considering trying CBD, I would recommend Dr. Robert Shmerling's advice about the dos and don'ts in choosing an appropriate product. Until there is high-quality scientific evidence in humans, it is difficult to make a recommendation for the regular use of CBD in chronic pain management.