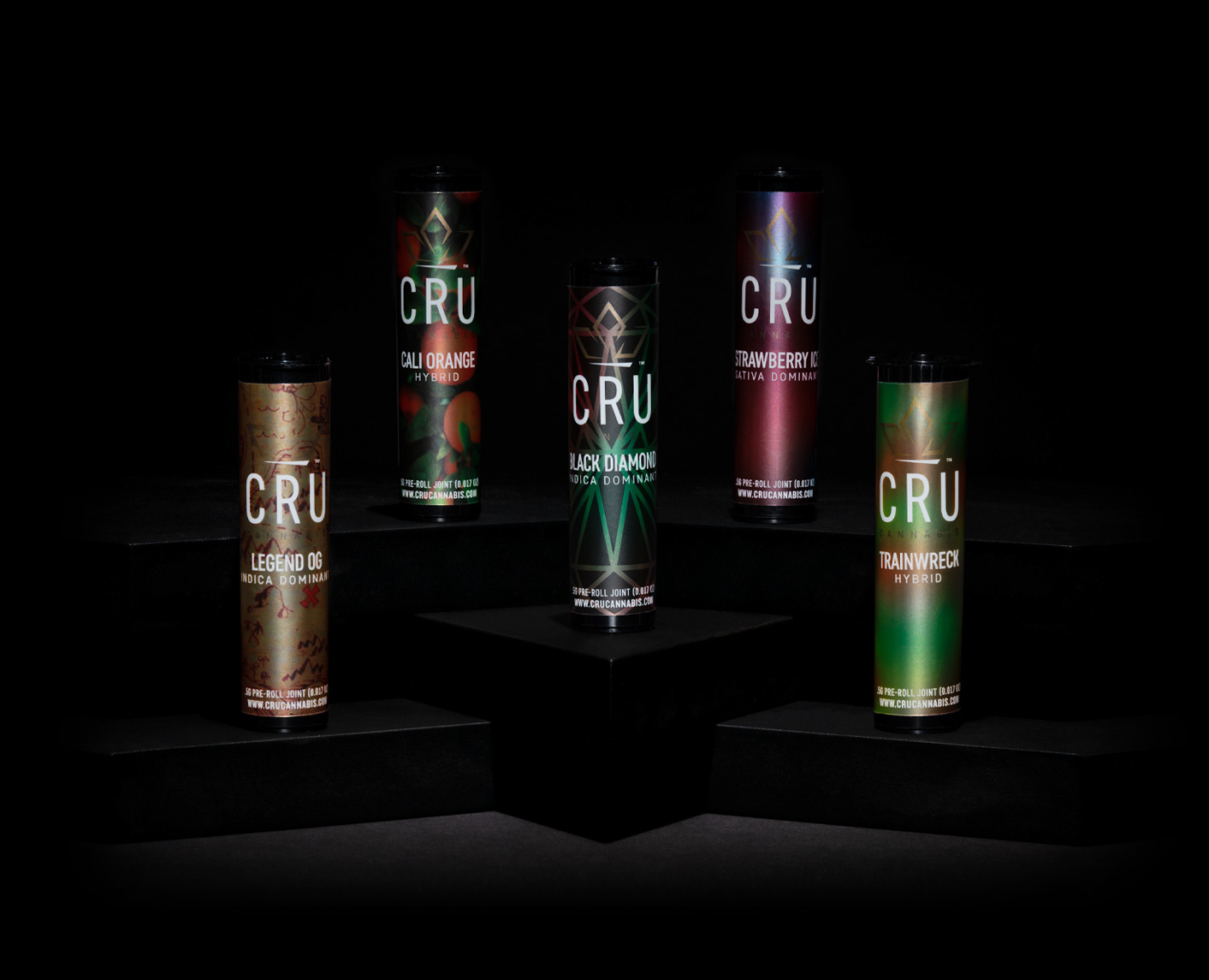 Consistency is what is expected when you are known to be one of the leaders in the market, but of course CRU pre-rolls are the classic overachiever.
This simple and thoughtfully designed rechargable pen always gives the right amount. Each draw from the pen provides a thick satisfying vapor. Intuitive packaging is color coded by strain type, white box for sativa, gold for hybrid and dark gray for indica. The terpene profile for each is broken down for taste, scent, sensation and when to use. The micro-USB charging port and premium heating system ensure that whenever the consumer is ready, it's ready.
STRAIN-SPECIFIC 100% INDOOR FLOWER PRE-ROLLS
We've taken CRU's premium indoor flower and added a painstakingly formulated recipe of potent concentrates to create a perfectly balanced high. With THC always clocking in above 20%+ but accompanied with other cannabinoids, you'll experience the psychoactive effects of high THC without the anxiety and paranoia.
CRU 1G FULL SPECTRUM OIL
An elite version of CRU that has been painstakingly harvested and treated with the kind of care usually given to the best grapes in France. Only the most ideal buds that meet the strict requirements of Grand CRU are hand-picked and hand-scaled from 13 genetically dominant strains. Like a cigar after a long day, Grand CRU is meant to punctuate anything in life worth celebrating. So sit back and enjoy, this is the apex of cannabis.
THC % vary by batch and cannot be guaranteed.
STORE HOURS: MON – SUN, 8AM – 9:50PM | DELIVERY: 9AM – 9:15PM | CURBSIDE PICKUP: 9AM – 9:50PM
FREE DELIVERY – NO MINIMUMS!
Ordering on the go? Try the Erba App! Online ordering made simple.
ERBA PICO RECREATIONAL MENU
Ordering on the go? Try the Erba App! Online ordering made simple.
CUSTOMERS MUST WEAR A MASK DURING DELIVERY
SEE OUR FAQ'S