This resource aims to give the origins of Christchurch street and place names.
Street Name Origins
The same street name appeared more than once in greater Christchurch because there were so many local bodies. With amalgamation, many streets were re-named. Former street names are included in this resource.
Sources
Street decorations for the Canterbury jubilee celebrations in December 1900 shown here in Colombo Street north [1900] CCL PhotoCD 4, IMG0075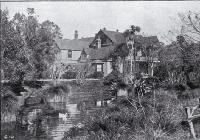 Captain James Cook sighted Banks Peninsula on 16 February 1770. He wrongly supposed it to be an island and did not land.
Sealers and whalers
Riccarton House at the present day [1900] William and John Deans and their farm-hands established themselves and commenced farming at Riccarton in 1843.
Canterbury Pilgrims
The original Municipal District had as its boundaries (to describe them by the present names) – on the north, Bealey Avenue; on the south, Moorhouse Avenue; on the east, Fitzgerald Avenue; and on the west Antigua Street, Rolleston Avenue and Park Terrace. The population at the time was 3,205. The land between Antigua Street and Hagley Avenue, north of Moorhouse Avenue, was added in 1863 to make the area of the City 1,249 acres.