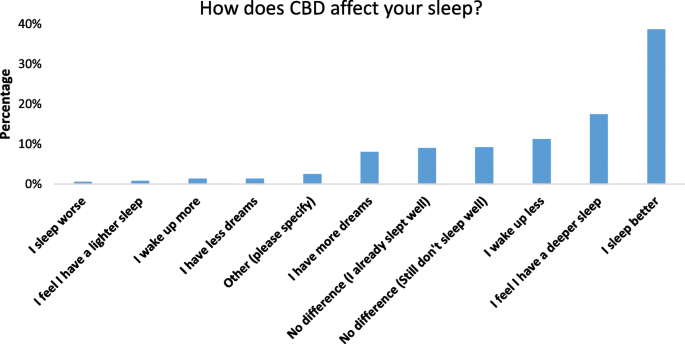 Given the low quality of CBD available on the market, it may be that these individuals were not taking CBD, or that CBD is not efficacious in sleep, so many individuals report better sleep by virtue of the placebo effect, fuelled by marketing (Haney 2020). Another reason may be that CBD is acting on other aspects of stress and anxiety that indirectly reduce sleep problems. Still, in this survey, participants directly attributed improved sleep to CBD. This points to the need for RCTs, as the effect of expectations (i.e. the result of the placebo effect), particularly with compounds advertised as cure-alls (Haney 2020). Suggesting that the placebo effect may contribute to the purported impact of CBD does not reject the potential medical value of CBD, but it does mean we must be wary of the results of observational studies (Haney 2020).
Corroon et al. found a more even distribution between various application methods with the most popular being sublingual CBD (23% vs 72,6% in our study sample). Our approach of recruiting respondents through email databases of non-vape CBD brands may explain why the sublingual administration route is much more frequent in our study than in the American survey.
More than half of the users were using a daily dose below 50 mg via a sublingual route of administration. Most were using CBD daily, sometimes multiple times per day. We found that respondents who use CBD for self-perceived anxiety and stress tend to use it several times per day, whilst respondents endorsing using CBD for sleep take it in the evening, indicating that user patterns vary according to the symptoms. A recent review suggests half-life is between 1.4 and 10.9 h after oromucosal spray and 2–5 days after chronic oral administration (Iffland and Grotenhermen 2017). In the light of these findings, it may be that people are dosing CBD several times per day to maintain stable plasma levels throughout the day if managing symptoms of stress and anxiety, whilst only using CBD at night if managing sleep problems.
Younger respondents were more likely to use novel routes of administration, e.g., vaping or drinking. This trend correlates with data showing that more people have tried vaping (in general) amongst younger age groups (Vaping and e-cigarette use by age U.S 2018). Only 9.3% reported vaping CBD in our sample, compared with 19% in the study by Corroon et al. (Corroon and Phillips 2018). The fast onset of vaporised CBD might explain why inhaled CBD is popular for self-perceived anxiety and stress.
Strengths and limitations
The sample consisted of 387 current or past-CBD users who answered a 20-question online survey. The survey was sent out to CBD users through email databases and social media. Participants reported basic demographics, CBD use patterns, reasons for use, and effects on anxiety, sleep, and stress.
Perceived effects of cannabidiol on sleep amongst adult cannabidiol users responding to the question "how does cannabidiol affect your sleep?" Participants were allowed to select multiple options. Y-axis represents percentage of total responses (n = 522)
We asked participants to report on other effects they experience. From a total of 960 responses, the most prevalent effect was calm (21.3%), followed by decreased pain (19.5%) (see Fig. 3). One per cent reported feeling euphoric/high. In examining the "other" responses, 27/960 (9.3%) reported that they did not feel any benefits from the use of CBD.
CBD and self-perceived stress
We found that 69.7% of users had been using CBD for less than 1 year. Moreover, only 4.1% had used CBD for more than 5 years, reflecting both that it is a fairly new phenomenon and an increasing interest in CBD in the UK, compared with the USA. A similar American survey reported that 34.6% had used CBD for less than 1 year and 53.2% more than 5 years (Corroon and Phillips 2018). At the time of writing, CBD is legal in all but three, out of fifty, American states, and many of these allow the products to contain THC. In the UK and Europe, non-prescription CBD products are not allowed to contain any THC (< 0.01%). These differences might create a divergence between European vs American consumers' experiences, and stresses the urgency for internal and external regulation, and education about cannabinoids in Europe.
The most significant findings were that many CBD users reported that CBD could improve sleep problems, stress, and anxiety and be used for general health and wellbeing. In the detailed results below, you can find the demographics of our survey population (Table 1), the CBD use patterns (Table 2), and logistic regression and OR's for the different subgroups. The indications for CBD use are shown (Fig. 1), as well as how CBD affects sleep (Fig. 2), and other effects of CBD (Fig. 3). Using CBD for sleep was associated with taking it in the evening, and using CBD for anxiety or stress was associated with the sublingual route. Females had higher odds of using CBD for anxiety and men for post-workout. Details of the results can be found below.
Just as hemp seedlings are sprouting up across the United States, so is the marketing. From oils and nasal sprays to lollipops and suppositories, it seems no place is too sacred for CBD. "It's the monster that has taken over the room," Dr. Brad Ingram, an associate professor of pediatrics at the University of Mississippi Medical Center, said about all the wild uses for CBD now. He is leading a clinical trial into administering CBD to children and teenagers with drug-resistant epilepsy.
For students with generalized social anxiety, a four-minute talk, with minimal time to prepare, can be debilitating. Yet a small experiment in the journal Neuropsychopharmacology found that CBD seemed to reduce nervousness and cognitive impairment in patients with social anxiety in a simulated public speaking task.
Is This A Scam?
Some CBD products may contain unwanted surprises. Forensic toxicologists at Virginia Commonwealth University examined nine e-liquids advertised as being 100 percent natural CBD extracts. They found one with dextromethorphan, or DXM, used in over-the counter cough medications and considered addictive when abused; and four with a synthetic cannabinoid, sometimes called Spice, that can cause anxiety, psychosis, tachycardia and death, according to a study last year in Forensic Science International.
Does CBD work?
Cannabidiol and THC are just two of the plant's more than 100 cannabinoids. THC is psychoactive, and CBD may or may not be, which is a matter of debate. THC can increase anxiety; it is not clear what effect CBD is having, if any, in reducing it. THC can lead to addiction and cravings; CBD is being studied to help those in recovery.