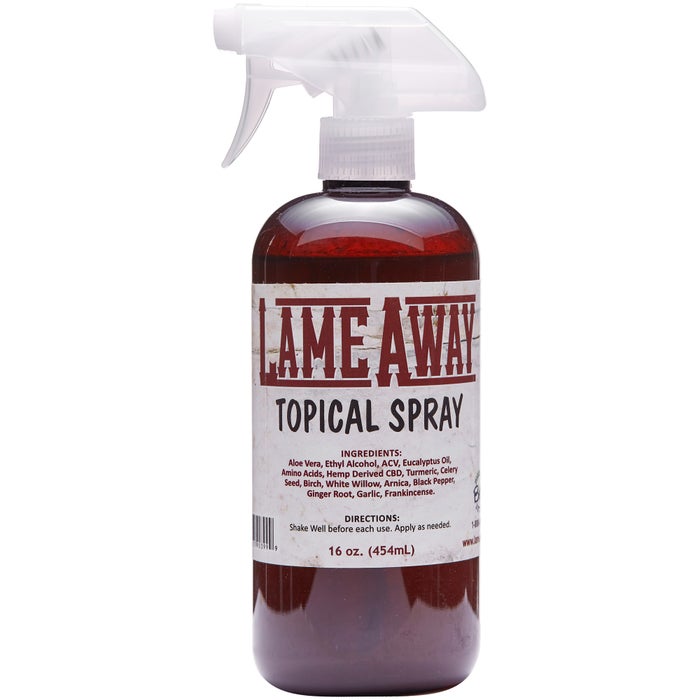 Please Note: CBD is banned within some competitive organizations, such as USEF. We recommend checking your organization's specific rules before showing.
Give your horse some relief from aches and soreness with the Lameaway Horse Rub Topical Spray! Utilizing a combination of ethyl alcohol, eucalyptus oil, full-spectrum CBD, and other hard-working ingredients, this spray helps to reduce pain and inflammation so your horse can keep feeling his best. It can even be applied under the saddle area or leg wraps if needed, making it a versatile tool for a variety of situations.
Comments: This stuff is wonderful!! I have to try everything myself. If it doesn't work on me it isn't going to work on them. So much for testing on animals right?! 😀 But I put this stuff on my feet, my plantar fasciitis has been SLOWLY improving. it was still pretty sore yesterday after some walking, as it is everyday. But I sprayed and rubbed this stuff on and HUGE difference within a very short time, and it still felt dang good this morning too! Came home from work and did not have to ice my feet this morning!
From: Karen – Parma, Idaho, USA
Key Features:
Customer Reviews
95% Naturally Derived
Never tested on animals
Hands-free relief—just spray and go. Phytonutrient-rich CBD, menthol and camphor oil mist onto skin, then penetrate deep to deliver targeted results you can feel. It's the perfect application for larger areas experiencing discomfort, tension or tightness.
Ingredients
ALCOHOL DENAT., HAMAMELIS VIRGINIANA (WITCH HAZEL) WATER, WATER (AQUA), PROPYLENE GLYCOL, ALCOHOL, LIDOCAINE, POLYSORBATE 20, GLYCERIN, CANNABIDIOL (CBD), ARNICA MONTANA FLOWER EXTRACT, ALOE BARBADENSIS LEAF EXTRACT, EUCALYPTUS GLOBULUS LEAF OIL, MENTHA PIPERITA (PEPPERMINT) OIL, CAMPHOR, MENTHOL, TOCOPHERYL ACETATE, ALLANTOIN, SODIUM BENZOATE, POTASSIUM SORBATE.
Free of: GMOs, Parabens, Phthalates, Formaldehyde, Artificial Coloring
Details
These statements have not been evaluated by the Food and Drug Administration. This product is not intended to diagnose, treat, cure or prevent any disease.
Contains 100mg CBD
Do not use this product if you are having serious medical issues, consult a doctor if currently taking prescribed medications. CBD may increase the efficacy of pharmaceutical medications. Intended for users over 18 years of age or with permission of guardian.
100% natural, contains no psychoactive ingredients and is third-party lab-tested for efficacy. Our products are 100% vegan and the cannabinoids are derived from pesticide free, USDA organic hemp grown in the USA.
100% All Natural Hemp
Leaves (under .03% THC).
91% base for quick absorption.
Isopropyl Alcohol
*These statements have not been evaluated by the Food and Drug Administration. This product is not intended to diagnose, treat, cure, or prevent any disease.