Hosted by the Defense Threat Reduction Agency (DTRA), the event offers a unique opportunity to exchange ideas, interact with elite researchers, and engage with federal agencies involved in Chemical and Biological Defense. The theme of this year's conference is "Finding Tomorrow's Solutions in Today's Environment".
Through keynote, oral, and poster presentations, the conference will address key areas including:
The last iteration of the Chemical and Biological Defense Science and Technology (CBD S&T) Conference brought together more than 1,700 attendees, with nearly 200 oral presentations and 700+ posters.
Learn about key issues in the Chem-Bio Defense industry as seen by leading researchers. Want to participate? Submit an abstract by for any of the following areas: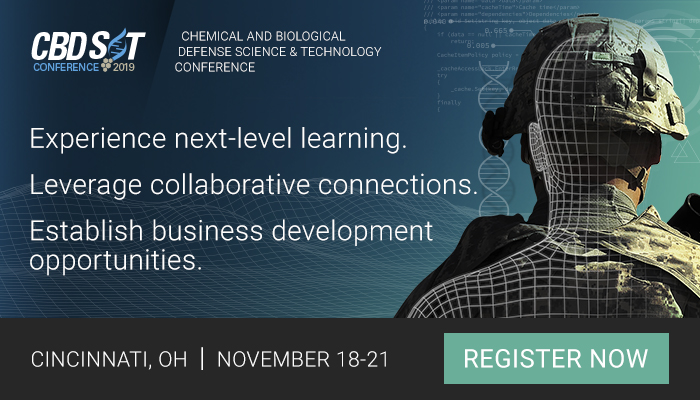 The 2019 CBD S&T Conference, the Chemical and Biological Defense Science & Technology meeting hosted every other year by the Defense Threat Reduction Agency, will take place this fall from 18-21 November 2019 in Cincinnati, Ohio.
Join more than 1500 researchers and stakeholders in chemical and biological defense. Attendees can learn about DTRA's current and upcoming research opportunities for small and large businesses, academia and national laboratories directly from science and technology managers, small business contracting representatives, contracting officers and program managers.
Highlighted session topics include:
Please visit the CBD S&T Conference website to view the full agenda and register. The registration deadline is 1 Nov 2019.