State authorities have also noted that CBD laws are likely to change in the future. But any such changes, they say, will not come from state lawmakers, but from federal ones. In the Hawaii Department of Health's May 2019 briefing, Department of Health Director Bruce Anderson stated that Hawaii will await national guidance on any laws related to CBD.
A bottle of CBD oil. Photo by: Gina Coleman/Weedmaps
It remains to be seen how authorities in the state might enforce CBD laws moving forward. Similarly, it remains unclear how these laws might change in the future.
Hawaii CBD laws
While cannabidiol (CBD) is permitted for registered medical marijuana patients in Hawaii, the legal status of CBD is complex. As with the rest of the United States, Hawaii has seen an explosion in the popularity of CBD, with a wide variety of stores and businesses now selling CBD oil and other CBD products. However, CBD technically remains illegal in the state.
The only exception to this is registered medical marijuana patients. Those who have a qualifying health condition and have received the appropriate approval from a licensed doctor can apply for a medical marijuana card. This card allows patients to purchase medical cannabis products containing CBD and THC from a state-approved medical marijuana dispensary.
Hawaii CBD possession limits
Full-spectrum means that the CBD has been extracted from a hemp plant along with all other cannabinoids and terpenes, as well as trace amounts of THC the plant may have produced. Consuming full-spectrum CBD may yield better results thanks to the entourage effect, a phenomenon in which the entire mixture of cannabinoids and terpenes work together to produce a more effective experience.
Since CBD oil and other CBD products are technically not legal in Hawaii, consumers are not allowed to purchase or possess any amount of CBD. As a result, the only real limits in place are for registered medical marijuana patients. In that case, patients are allowed to have up to 4 ounces, or 113 grams, of cannabis at any given time. Patients or a licensed caregiver can also grow up to seven marijuana plants at a time.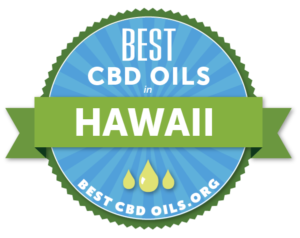 CBD Oil Shops in Honolulu
Honolulu is home to a dozen shops selling premium CBD products. Mr. Hemp CBD (286 N School St, Honolulu, HI 96817) is a 5 star-rated shop selling CBD capsules, spray, salves, gummies, vape cartridges, and CBD oils. All the store's products are tested by thirty-party labs to guarantee quality, and they are a certified retailer for NuLeaf Naturals, Hemp Health CBD and Green Roads CBD Products. 2Higuys (2570 S Beretania St, Honolulu, HI 96826) is another nearby CBD shop, with personalized customer service, an extensive inventory, and excellent hours seven days a week. Right next door is Choke Smoke (2671 S King St, Honolulu, HI 96826). In addition to excellent CBD options, Choke Smoke carries premium e-liquids, Kratom, vaporizers, dab pens, glass pipes, water pipes, rigs, hookahs, and more. If you're downtown, check out Natural Mystic (203 S King St, Honolulu, HI 96813) for affordable CBD, e-juice, and vape accessories; and if you're in the direction of Diamond Head, you can't go wrong with VOLCANO eCigs (449 Kapahulu Ave, Honolulu, HI 96815), the island's most popular CBD shop, which offers a variety of CBD products and online promotions.
Our favorite CBD product can be purchased online for delivery to Hawaii:
Is CBD Legal in Hawaii?
As one of the most popular health and wellness products on the market, CBD is appearing in stores across the country, and Hawaii is no exception, with dozens of places to buy CBD products in Honolulu, Kahului, and the Island of Hawaii. If you'd rather buy CBD online, plenty of wholesale retailers are available: save on affordable CBD products, complimentary delivery service, and an excellent selection of CBD oils, juices, edibles, tinctures, and other CBD products in multiple grades.
The more we learn about CBD's potential health benefits, the more we'll learn how to use it to reduce risks for everything from insomnia to depression to cancer.
CBD Oils Shops on The Island of Hawaii
In particular, CBD affects the endocannabinoid system, which controls day-to-day functions including mood, sleep, hormone regulation, appetite, and pain. Evidence of progress in any of those categories would be a major breakthrough, but research suggests we're only beginning to understand CBD's greatest health advantages: dozens of chronic medical issues—cardiovascular disease, epilepsy, general anxiety disorders, schizophrenia, Alzheimer's disease, and ALS, among others—might be reduced, mitigated, or prevented via regular CBD usage.