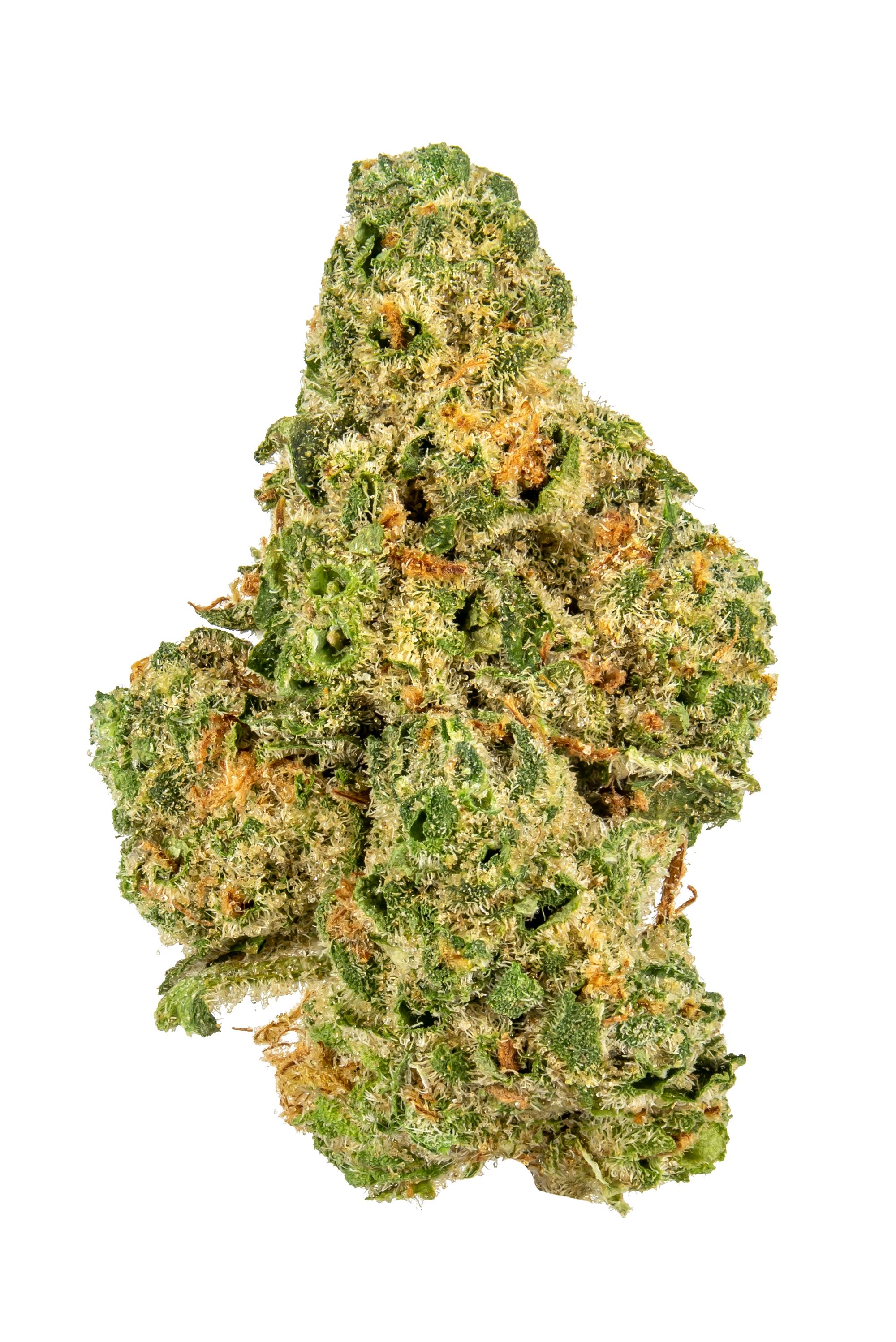 The buds omit an ocean-fresh odor, with hints of spearmint and citrus. Combusting Ocean Beach releases a refreshing, sweet lemon and spearmint flavor, with a spicy-kush aftertaste.
Ocean Beach has chunky, tree-shaped buds, containing swirled, camouflage-green leaves, with purple streaks. Fuzzy strands of orange pistils are loosely scattered about. Gold trichome hairs add furry stripes of yellow, covering the buds as if white sand was sprinkled over them.
The Cookies Co has been keeping many of their lineage a tightly held secret, as is the case with the Ocean Beach strain. Some believe it is a descendant of OG Kush, with that spicy-kush flavor. They teamed up once again with Seed Junky Genetics to bring us this potent indica-dominant strain.
Ocean Beach reportedly offers an energizing psychoactive euphoria, with a blissful, narcotic-like body buzz. Couch-lock wasn't a problem as many users found their motivation and creativity enhanced. The dominant terpenes, Beta Caryophyllene, Limonene, and Linalool, are believed to work together to provide anti-stress, inflammation, and anxiety benefits. Some users suggest the potency made it difficult to focus their energy, as their stimulated, creative mind tended to jump around.
With THC levels testing at 26%, Ocean Beach is an extremely potent indica-dominant hybrid, with a zesty, fresh flavor, that shouldn't leave you incapacitated, but might leave you a little loopy.
My last formal job as a chemist was at a CBD company here in San Diego, and through that I was able to get an inside look into their business operations. After leaving that company I started my own. I became aware of the price gouging in the industry, and realized that I could provide the same or better product for a much cheaper price. I felt that people were being taken advantage of and wanted to help alleviate that as much as possible.
I am a classically trained chemist and spent the first 7 years of my career doing research for local pharmaceutical companies in San Diego before embarking on my own. I started making CBD products for my close friends and family and before long, I decided to quit my day job and focus full time on this new venture. It is a one man operation; I create, package, and ship all my products and speak with my customers directly. I like to have these one on one interactions and am proud that there aren't any sales representative or customer service in between me and my customers. There is no board of directors that I have to answer to. I am fully responsible and accountable for all decisions in this company.
I aim to provide a product which will alleviate your ailments at a price which won't drain your bank account. If you have any questions feel free to email me and I'll get back to you as soon as possible! Have a wonderful day!
Cape Fear Discount Drugs North
2800 Raeford Rd 18
Fayetteville, NC 28303
If you are looking where to shop for CBD in Ocean Isle Beach, NC, Procana has thousands of trusted retail stores across the US to serve you.
Procana offers CBD Tinctures for ease of use for sublingual or food additives. CBD Tinctures are oil soluble providing fast absorbtion and available in multiple formulations and doses. To learn more about the benefits of CBD Tinctures – Click here for products.
Procana offers CBD Vapes and CBD Cartridges, providing ultra fast acting relief in 4 refreshing flavors. To learn more about the benefits of CBD Vape Click here for products.
CBG Cannabigerol
Procana offers CBD Topicals to soothe Joints and Muscles, specially formulated with CBD, Menthol and Arnica. These products are available in both Sprays and Rollons. Click here for products.
Procana offers CBD Gummies as CBD Fruit Chews, great tasting and all natural flavors. To learn more about the benefits of CBD Gummies – Click here for products.
Maria's Health Shoppe
14540 US Highway 17 N
Hampstead, NC 28443
How to determine the best quality of CBD?
Procana offers CBD Capsules and Softgels, ideal for controlled dosing availabe in multiple formulations of Daily Maintenance, Extra Strength and Maxiumum Strength. To learn more about the benefits of CBD Capsules and Softgels- Click here for products.
Cape Fear Discount Drugs North
2800 Raeford Rd 18
Fayetteville, NC 28303