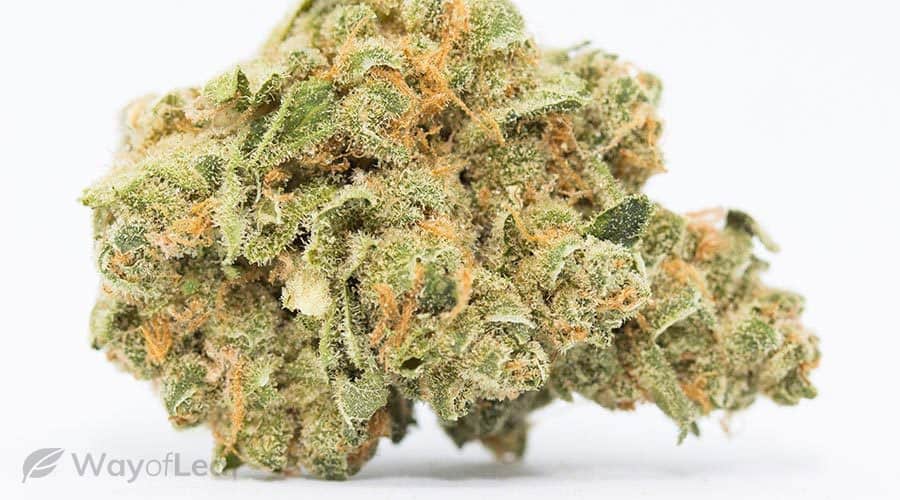 Ringo's Gift has an earthy hash taste and aroma. Users tend to experience an element of cerebral activity while their body feels soothed and relaxed. Due to the low THC content, the high you receive is mild yet noticeable. It begins in the head and slowly but surely leads to a body buzz that keeps you relaxed but not couch-locked.
THC works by binding to CB1 receptors, which are largely concentrated in the brain and central nervous system. These produce the intoxicating effects for which marijuana is famous.
There is no 'high' associated with this strain, and it provides users with no cerebral effect. Charlotte's Web is typically consumed in CBD oil form rather than being smoked.
2 – Charlotte's Web (17% CBD, Max 1% THC)
It is a popular strain for people with chronic pain, anxiety, arthritis, gastrointestinal disorder, stress, PTSD, and muscle spasms. As Ringo's Gift keeps you relaxed yet alert and ensures you remain sociable, it is a good choice for daytime medication.
CBD is commonly used for medical purposes. Many who smoke cannabis but want the benefits of CBD may want to choose an equal THC/CBD ratio, as CBD is known for countering the "high" effect associated with THC.
The Harle-Tsu high is rather mellow, and instead of providing you with a body or cerebral high, this strain works well as a painkiller. You may feel something of a buzz behind the eyes first, and then your body may feel free and relaxed afterward.
What Are the Potential Health Benefits of High CBD/Low THC Strains?
Research into high CBD/low THC strains is ongoing, and we need far more information to make any confident declarations. However, the initial data is extremely encouraging. Many of the apparent benefits relate to pain and anxiety. We'll delve into CBD's potential to help individuals manage anxiety a little later.
Researchers have yet to discover any serious side effects of CBD consumption.
Ringo's Gift is a high-CBD strain that is a cross between AC/DC and Harle-Tsu, two hybrid strains also recognized for their therapeutic value and an immense amount of CBD content. It's named after its original breeder, a renowned marijuana activist and trailblazer in CBD genetics named Lawrence Ringo, who founded the Southern Humboldt Seed Collective, or SoHum Seeds. There are a few varieties of ratios and phenotypes of this strain, some of which offer an equal 1:1 CBD-to-THC ratio, while some strains have been reported to reach a whopping 25:1 CBD-to-THC ratio.
If you want to curate your CBD experience with strain-specific flower, you'll want to know the most popular options available on the legal market. Without further ado, here are seven of the world's most historically significant and widely used high-CBD strains.
Harlequin is a high-CBD strain that is a descendant of Thai sativa, Nepali indica, Swiss sativa, and Colombian Gold. This sativa-dominant strain tends to maintain a consistent 5:2 CBD-to-THC ratio. Lab tests conducted on Harlequin samples found that the strain contained between 8% to 16% CBD content and 4% to 7% THC content, according to the NCSM.
Ringo's Gift
For varieties that offer a more well-balanced ratio, consumers oftentimes report a warm and calming buzz without evoking feelings of tiredness or risk of couch-lock. This high-CBD strain has been purported to benefit a variety of mental conditions, such as post-traumatic stress disorder (PTSD), anxiety, depression, and stress. Physical ailments can also be potentially treated with Ringo's Gift, including epilepsy, arthritis, chronic pain, inflammation, muscle spasms, and headaches. Its terpene profile, which includes myrcene, a-pinene, and caryophyllene, makes this an earthy strain with a piney and minty aroma, giving off a slightly spicy and tangy flavor.
And while CBD is often associated with oils, tinctures, vape pens, and other cannabis products, it's also available in flower to roll in joints, pack in bowls, and load in vaporizers.
First cultivated in Northern California at SoHum Seeds, the CBD genetics company founded by Ringo, Harle-Tsu is a high-CBD strain that is a cross between a Harlequin male and Sour Tsunami clone. When it was awarded first place for best CBD flower at the 2014 Emerald Cup, lab testing showed that Harle-Tsu yielded 21.05% CBD and 0.86% THC. On average, however, most Harle-Tsu strain samples contain about 18% CBD.
Cannatonic
First surfacing in 2011, Charlotte's Web is a high-CBD strain with an incredible history behind it – one that helped shed the stigma surrounding the use of medical cannabis to treat children. The strain is named after Charlotte Figi, a girl who developed a rare condition called Dravet syndrome, also known as severe myoclonic epilepsy of infancy (SMEI), as a baby. Severely disabled by age three, she was suffering about 300 grand mal seizures a week, as reported in a CNN article in 2013.
The most abundant terpenes found in Cannatonic, according to one MCR Labs testing results, include myrcene, b-caryophyllene, and limonene, giving the flower an earthy and citrusy flavor.