Even the available studies on the use of marijuana in the treatment of ADHD is very limited. Many of these studies also rely on self-reported data, which does not provide as much support as a randomized clinical trial.
While the Centers for Disease Control and Prevention (CDC) reports that between 70 and 80% of kids who have ADHD experience a reduction in symptoms after taking stimulant ADHD medication, they can cause side effects including sleep issues, decreased appetite, and mood changes.  
CBD May Reduce Hyperactivity
When it comes to ADHD, people who are thinking of trying CBD oil need to understand that there is a major lack of research on the topic. There are no randomized controlled trials that indicate whether it is effective or ineffective. There is also no research comparing CBD oil to other treatments for ADHD.
The memory and attention impairments that are associated with the use of cannabis are one potential concern.
Research
So should you try CBD oil for ADHD? Some important things to remember: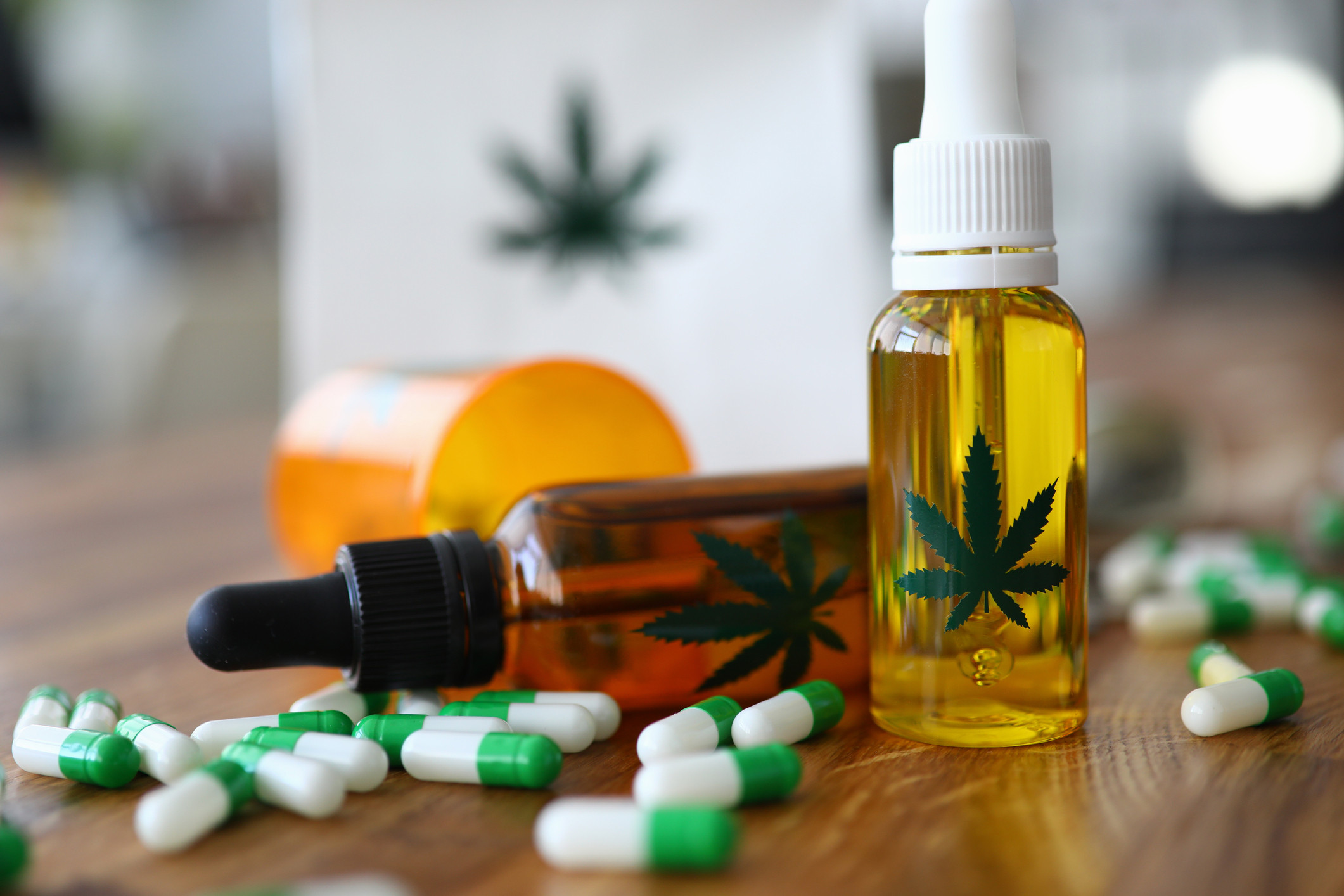 Many drugs are broken down by enzymes in the liver, and CBD may compete for or interfere with these enzymes, leading to too much or not enough of the drug in the body, called altered concentration. The altered concentration, in turn, may lead to the medication not working, or an increased risk of side effects. Such drug interactions are usually hard to predict but can cause unpleasant and sometimes serious problems.
While generally considered safe, CBD may cause drowsiness, lightheadedness, nausea, diarrhea, dry mouth, and, in rare instances, damage to the liver. Taking CBD with other medications that have similar side effects may increase the risk of unwanted symptoms or toxicity. In other words, taking CBD at the same time with OTC or prescription medications and substances that cause sleepiness, such as opioids, benzodiazepines (such as Xanax or Ativan), antipsychotics, antidepressants, antihistamines (such as Benadryl), or alcohol may lead to increased sleepiness, fatigue, and possibly accidental falls and accidents when driving. Increased sedation and tiredness may also happen when using certain herbal supplements, such as kava, melatonin, and St. John's wort. Taking CBD with stimulants (such as Adderall) may lead to decreased appetite, while taking it with the diabetes drug metformin or certain heartburn drugs (such as Prilosec) may increase the risk of diarrhea.
CBD can alter the effects of other drugs
CBD has the potential to interact with many other products, including over-the-counter medications, herbal products, and prescription medications. Some medications should never be taken with CBD; the use of other medications may need to be modified or reduced to prevent serious issues. The consequences of drug interactions also depend on many other factors, including the dose of CBD, the dose of another medication, and a person's underlying health condition. Older adults are more susceptible to drug interactions because they often take multiple medications, and because of age-related physiological changes that affect how our bodies process medications.
The researchers further warned that while the list may be used as a starting point to identify potential drug interactions with marijuana or CBD oil, plant-derived cannabinoid products may deliver highly variable cannabinoid concentrations (unlike the FDA-regulated prescription cannabinoid medications previously mentioned), and may contain many other compounds that can increase the risk of unintended drug interactions.
Doubling up on side effects
Absolutely. Inhaled CBD gets into the blood the fastest, reaching high concentration within 30 minutes and increasing the risk of acute side effects. Edibles require longer time to absorb and are less likely to produce a high concentration peak, although they may eventually reach high enough levels to cause an issue or interact with other medications. Topical formulations, such as creams and lotions, may not absorb and get into the blood in sufficient amount to interact with other medications, although there is very little information on how much of CBD gets into the blood eventually. All of this is further complicated by the fact that none of these products are regulated or checked for purity, concentration, or safety.
According to Mitch Earleywine, professor of psychology at SUNY-Albany and an advisory-board member of the National Organization for the Reform of Marijuana Laws (NORML), there is "no published data, let alone randomized clinical trials, [that] support the use of CBD for ADHD."
What Is CBD? Does It Help ADHD?
And while CBD may potentially benefit some patients with ADHD, "One is doing an experiment on oneself by taking CBD for ADHD," Evans adds. "CBD is anti-inflammatory and I'm not sure there is good evidence mechanistically that for ADHD it might be helpful."
The Dangers of Experimenting with CBD for ADHD
"There are anecdotes that CBD may help with ADHD," says Dr. Robert Carson, an assistant professor of neurology and pediatrics at Vanderbilt University who co-authored a 2018 study on the efficacy of CBD on epilepsy, "but this is true for many other symptoms or diseases. Thus, there may be patients whose ADHD symptoms improve after adding CBD, but we cannot generalize that anecdote more broadly. Secondly, the cases we're most likely to hear about are the one where somebody had a great response — not the 10 who did not."