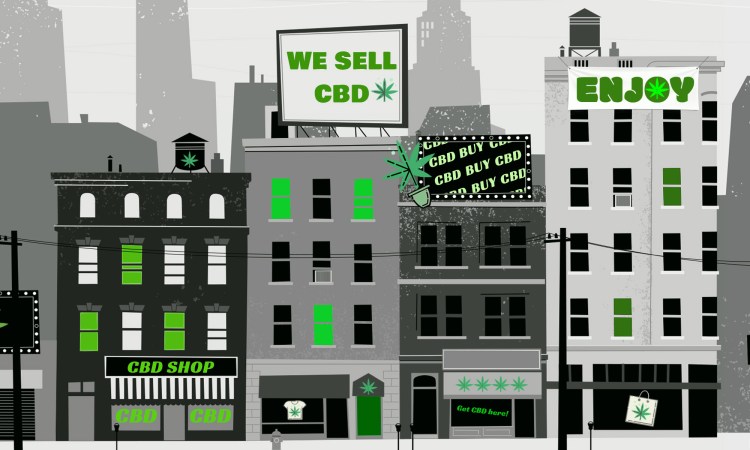 CBD gummies. CBD shots in your latte. CBD dog biscuits. From spas to drug stores, supermarkets to cafes, wherever you go in the US today, you're likely to see products infused with CBD. There are cosmetics, vape pens, pills and, of course, the extract itself; there are even CBD-containing sexual lubricants for women which aim to reduce pelvic pain or enhance sensation. CBD has been hailed by some users as having cured their pain, anxiety, insomnia, depression or seizures, and it's been touted by advertisers as a supplement that can treat all of the above and combat aging and chronic disease.
Is CBD a cure-all — or snake oil? Jeffrey Chen, executive director of the UCLA Cannabis Research Initiative, explains the science behind the cannabis product.
Furthermore, in an effort to protect consumers, the FDA has announced that it will soon issue and enforce regulations on all CBD products. Buyers should beware because the products being sold today may contain contaminants or have inaccurately labelled CBD content — due to the deluge of CBD products on the market, government agencies haven't been able to react quickly enough so there is currently no regulation in the US whatsoever on CBD products.
Due to decades of research restrictions in the US and growers' focus on THC, there are very few human studies that look at CBD and its effects. The strongest evidence we have is that CBD can reduce the frequency of seizures in certain rare pediatric disorders — so much that a CBD-based drug called Epidiolex was FDA-approved in 2018 for this purpose. There is also preliminary human data from small clinical trials with dozens of subjects that suggests CBD may have the potential to be used for conditions like anxiety, schizophrenia, opioid addiction, and Parkinson's disease. But please note that the participants in these studies generally received several hundreds of milligrams of CBD a day, meaning the 5mg to 25mg of CBD per serving in popular CBD products may likely be inadequate. And even if you took dozens of servings to reach the dosage used in these clinical trials, there is still no guarantee of benefit because of how preliminary these findings are.
Currently, there is only one CBD product that has FDA approval: a prescription medication called Epidiolex, used to treat some rare severe seizure disorders in children. The bottom line is that in order to understand whether CBD is legal where you live, you'll need to consult your state health department website or professionals in your community.
Yes, there is evidence that CBD works for some conditions, but certainly not all the conditions it is being promoted for these days. There's no evidence, for example, that CBD cures cancer. There is moderate evidence that CBD can improve sleep disorders, fibromyalgia pain, muscle spasticity related to multiple sclerosis, and anxiety.
Where should you purchase CBD products?
But for children under age 21 it's a different story. It's also not clear if any amount of CBD is appropriate for children.
That said, CBD is thought to be a safe and effective option for certain conditions. Below, we sort through the confusion by answering some of the most common questions about CBD.
Is CBD safe?
For adults, CBD appears to be a very safe product. CBD does produce side effects for some people, including nausea, fatigue, and irritability. It may also interact with certain medications, so always check with your doctor before use.