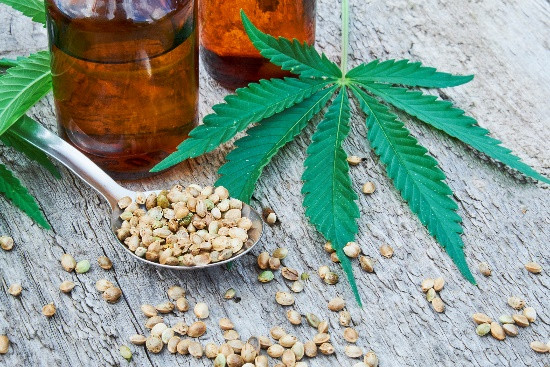 People taking high doses of CBD may show abnormalities in liver related blood tests. Many non-prescription drugs, such as acetaminophen (Tylenol), have this same effect. So, you should let your doctor know if you are regularly using CBD.
Outside of the US, the prescription drug Sativex, which uses CBD as an active ingredient, is approved for muscle spasticity associated with multiple sclerosis and for cancer pain. Within the US, Epidiolex is approved for certain types of epilepsy and tuberous sclerosis.
The Farm Bill removed all hemp-derived products, including CBD, from the Controlled Substances Act, which criminalizes the possession of drugs. In essence, this means that CBD is legal if it comes from hemp, but not if it comes from cannabis (marijuana) – even though it is the exact same molecule. Currently, many people obtain CBD online without a medical marijuana license, which is legal in most states.
Is CBD safe?
CBD, or cannabidiol, is the second most prevalent active ingredient in cannabis (marijuana). While CBD is an essential component of medical marijuana, it is derived directly from the hemp plant, a cousin of marijuana, or manufactured in a laboratory. One of hundreds of components in marijuana, CBD does not cause a "high" by itself. According to a report from the World Health Organization, "In humans, CBD exhibits no effects indicative of any abuse or dependence potential…. To date, there is no evidence of public health related problems associated with the use of pure CBD."
CBD comes in many forms, including oils, extracts, capsules, patches, vapes, and topical preparations for use on skin. If you're hoping to reduce inflammation and relieve muscle and joint pain, a topical CBD-infused oil, lotion or cream – or even a bath bomb — may be the best option. Alternatively, a CBC patch or a tincture or spray designed to be placed under the tongue allows CBD to directly enter the bloodstream.
How can CBD be taken?
A significant safety concern with CBD is that it is primarily marketed and sold as a supplement, not a medication. Currently, the FDA does not regulate the safety and purity of dietary supplements. So, you cannot be sure that the product you buy has active ingredients at the dose listed on the label. In addition, the product may contain other unknown elements. We also don't know the most effective therapeutic dose of CBD for any particular medical condition.
Animal studies, and self-reports or research in humans, suggest CBD may also help with:
"If you take pure CBD, it's pretty safe," said Marcel Bonn-Miller, an adjunct assistant professor at the University of Pennsylvania's Perelman School of Medicine. Side effects in the Epidiolex trial included diarrhea, sleepiness, fatigue, weakness, rash, decreased appetite and elevated liver enzymes. Also, the safe amount to consume in a day, or at all during pregnancy, is still not known.
Earlier research found fewer than a third of 84 products studied contained the amount of CBD on their labels. Some users of CBD have also failed drug tests when the product contained more THC than indicated.
A few drops of CBD oil in a mocha or smoothie are not likely to do anything, researchers contend. Doctors say another force may also be at play in people feeling good: the placebo effect. That's when someone believes a drug is working and symptoms seem to improve.
But he cautions that the side effects could have been because of an interaction with other medications the children were taking to control the seizures. So far, there hasn't been a randomized, placebo-controlled, double-blind trial (the gold standard) on sleep disorders and CBD.
Does CBD help sleep and depression?
Sleep can be disrupted for many reasons, including depression. Rodents seemed to adapt better to stressful conditions and exhibited less depressive-like behavior after taking CBD, according to a review in Journal of Chemical Neuroanatomy. "Surprisingly, CBD seems to act faster than conventional antidepressants," wrote one of the authors of a new review, Sâmia Joca, a fellow at the Aarhus Institute of Advanced Studies in Denmark and an associate professor at the University of São Paulo in Brazil, in an email interview. Of course, it's difficult to detect depression in animals, but the studies that Ms. Joca and her colleagues reviewed suggested that in models of chronic stress exposure, the mice and rats treated with CBD were more resilient.
Recently, the F.D.A. sent a warning letter to Curaleaf Inc. about its "unsubstantiated claims" that the plant extract treats a variety of conditions from pet anxiety and depression to cancer and opioid withdrawal. (In a statement, the company said that some of the products in question had been discontinued and that it was working with the F.D.A.)
take your money?
Is CBD harmful?
Dr. Smita Das, chair of the American Psychiatric Association's Council on Addiction Psychiatry's cannabis work group, does not recommend CBD for anxiety, PTSD, sleep or depression. With patients turning to these to unproven products, she is worried that they may delay seeking appropriate mental health care: "I'm dually concerned with how exposure to CBD products can lead somebody into continuing to cannabis products."
For students with generalized social anxiety, a four-minute talk, with minimal time to prepare, can be debilitating. Yet a small experiment in the journal Neuropsychopharmacology found that CBD seemed to reduce nervousness and cognitive impairment in patients with social anxiety in a simulated public speaking task.