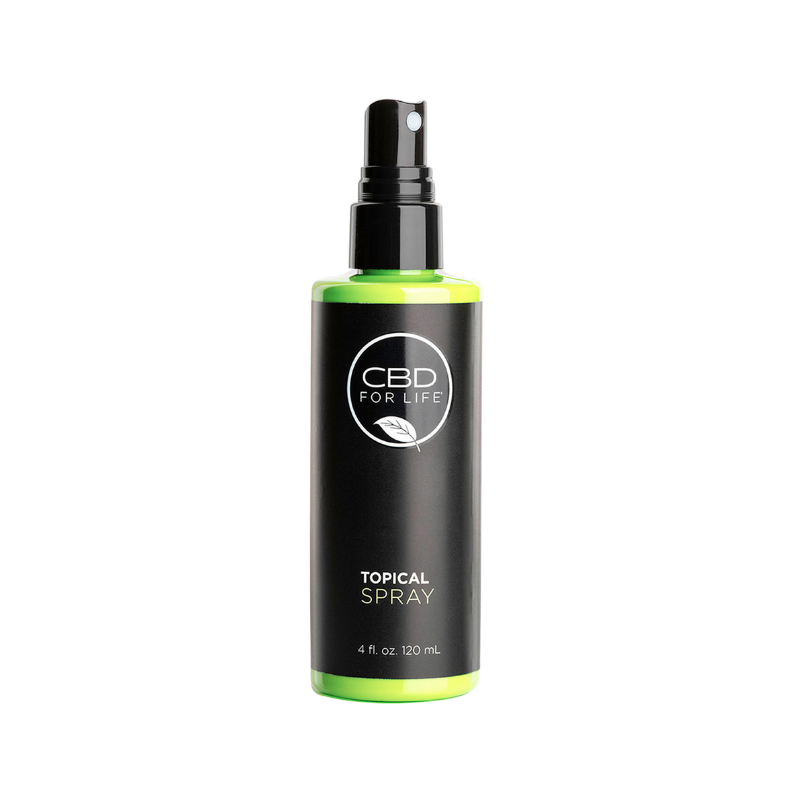 This product has many applications but is most popular among people with skin rashes, joint pain, muscle injuries, or as a topical spray for sunburns and bug bites.
CBD For Life is customer service-focused, stating "We pride ourselves on customer service and satisfaction" which is backed up by its solid customer and Better Business Bureau ratings. The company offers a 15-day return policy as well — however, all products must remain sealed and customers are responsible for all return shipping costs.
While CBD For Life products aren't 3 rd party tested, this product is a topical so keep in mind the risks aren't as prevalent as they would be for an ingestible —however, it would still be a desirable pro.
2. Excellent Formulation
This product is full of pain-killing and anti-inflammatory ingredients on top of CBD. The spray format makes this product easy to apply directly to sore muscles, joints, and areas of skin.
Overall, we can't recommend this product because of the lack of transparency and information on this product. After trying the product ourselves, we were impressed at the effects, but can't be sure if any of this is a direct result of the CBD, or from other ingredients in the formula instead.
We recommend keeping some of this spray in your medicine cabinet or first aid kit — ready for when you need it.
Article By
CBD For Life Pure CBD Extract Pain-Relief Spray comes in one variation of 4 oz that contains a 99% pure CBD extract for $26.00. There is only one CBD topical spray on the market and this is it — so considering the rarity of a product like this, and the fact that you don't ingest it — we can understand why there isn't any variation for this product.
It's hard to find other 99% pure CBD topical sprays on the market at the moment — let alone one that also contains the super-powerful numbing agent lidocaine.
Free of: GMOs, Parabens, Phthalates, Formaldehyde, Artificial Coloring
Contains 100mg CBD
95% Naturally Derived
Details
Never tested on animals
These statements have not been evaluated by the Food and Drug Administration. This product is not intended to diagnose, treat, cure or prevent any disease.
WATER (AQUA), ALCOHOL DENAT., GLYCERIN, XYLITOL, CANNABIDIOL (CBD), POLYSORBATE 20, POTASSIUM SORBATE, SODIUM BENZOATE.
How to use
Alcohol is denatured with spearmint
Spray 2 to 3 pumps under your tongue. Can be taken 2 to 3 times a day, or as needed.