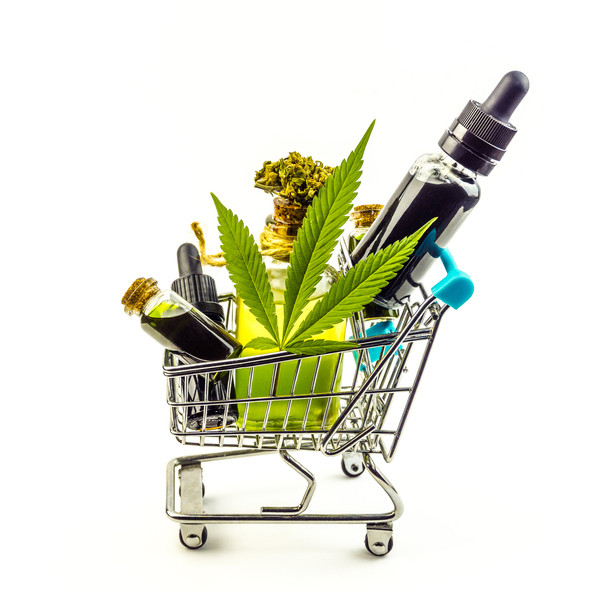 CBD is emerging as a promising pharmaceutical agent to treat pain, inflammation, seizures, and anxiety without the psychoactive effects of THC. Our understanding of the role of CBD in pain management continues to evolve, and evidence from animal studies has shown that CBD exerts its pain-relieving effects through its various interactions and modulation of the endocannabinoid, inflammatory, and nociceptive (pain sensing) systems. The endocannabinoid system consists of cannabinoid receptors that interact with our own naturally occurring cannabinoids. This system is involved in regulating many functions in the body, including metabolism and appetite, mood and anxiety, and pain perception.
Given its promising results in animal models, along with its relative safety, non-psychoactive properties, and low potential for abuse, CBD is an attractive candidate to relieve pain. Unfortunately, there is a lack of human studies about the effectiveness of CBD. However, there is an abundance of commercial advertisements about the magical effects of CBD, and it is frequently presented as a cure-it-all potion that will treat everything including diabetes, depression, cancer, chronic pain, and even your dog's anxiety!
What's the research that CBD works in humans?
Given the ongoing challenges of chronic pain management coupled with the consequences of the opioid epidemic, pain management practitioners and their patients are searching for effective and safer alternatives to opioids to alleviate pain. With the legalization of marijuana in many states and resulting cultural acceptance of this drug for recreational and medical use, there has been an increased interest in using cannabis for a myriad of medical problems, including pain.
Why is CBD presented to the public this way, when it is not without risks?
Most importantly, CBD can interact with other important medications like blood thinners, heart medications, and immunosuppressants (medications given after organ transplantation), potentially changing the levels of these important medications in the blood and leading to catastrophic results, including death. Also, more information needs to be gathered about its safety in special populations such as the elderly, children, those who are immunocompromised, and pregnant and breastfeeding women.
A 2019 study found Sativex to be an "effective and well-tolerated add-on treatment" for patients with severe chronic pain stemming from various ailments. The study identified three types of pain: nociceptive (affecting body tissue), neuropathic (affecting nerves) and mixed pain. Sativex helped treat all three kinds but proved especially effective against neuropathic pain.
In clinical trials, Sativex, a spray with equal parts CBD and THC, proved significantly successful as an analgesic for cancer-related pain [2] Russo EB. Cannabinoids in the management of difficult to treat pain. Ther Clin Risk Manag. 2008;4(1):245-259. . The spray, also used for multiple sclerosis-related pain, is approved in Canada to treat cancer pain and is currently undergoing trials for approval and use in the U.S.
CBD for Pain Relief
Meanwhile, a small 2019 trial suggests a mix of CBD and THC may prove beneficial for people with fibromyalgia, a type of arthritis that results in whole-body pain and fatigue [11] van de Donk T, Niesters M, Kowal MA, Olofsen E, Dahan A, van Velzen M. An experimental randomized study on the analgesic effects of pharmaceutical-grade cannabis in chronic pain patients with fibromyalgia. Pain. 2019;160(4):860-869. . The study found that, via a single inhalation, a CBD-THC solution performed better than a placebo and either substance on its own.
Without the intoxicating properties of its cousin delta-9-tetrahydrocannabinol (THC), cannabidiol (CBD) can provide the human body with a handful of health benefits. Cannabinoids like CBD interact with receptors in the endocannabinoid system, which plays a role in signaling bodily functions, from emotional responses to motor control to energy balance [1] Mouslech Z, Valla V. Endocannabinoid system: An overview of its potential in current medical practice. Neuro Endocrinol Lett. 2009;30(2):153-179. .
CBD for Chronic Pain
Various conditions and injuries that damage nerves or the nervous system can result in neuropathic pain. This kind of pain manifests as tingling, numbness, muscle weakness and a sharp, shooting, burning or stabbing pain.