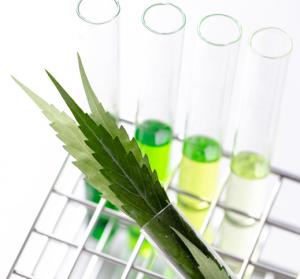 Cannabidiol (CBD) is a compound extracted from hemp or marijuana. The Agriculture Improvement Act of 2018 (Farm Bill) excluded hemp and its constituents from the definition of marijuana and removed it from the Controlled Substances Act (CSA). Hemp is a valuable agricultural commodity and contains only trace levels of tetrahydrocannabinol (THC), the intoxicating compound in marijuana. Hemp has been cultivated throughout human history for many purposes, including food, fiber and oil. Modern science has demonstrated that, in addition to its value as a food and fiber, hemp extracts naturally contain CBD and that CBD may have its own health-promoting benefits. Now, by excluding hemp from the definition of marijuana, hemp with no more than 0.3 percent THC (and its constituents such as CBD) is no longer a controlled substance under the CSA.
What does CBD do?
Exploring a legal path to market for food, beverages and dietary supplements containing CBD is consistent with FDA's strong public health goals. Recognizing CBD products as lawful foods, beverages or dietary supplements would allow the agency to impose a reasonable regulatory framework around the processing, manufacturing and marketing of CBD products not intended for use as drugs. It would also permit the agency to enforce existing regulations regarding registration of manufacturing facilities; observance of good manufacturing practice regulations; supply chain security; compliance with food additive and new dietary ingredient provisions for food and dietary supplements; and post-market surveillance of serious adverse events. If FDA fails to act, consumer interest in CBD will continue to grow along with a thriving but plainly unlawful array of CBD products. No one benefits from a "wild west" scenario in which companies willing to risk FDA enforcement distribute these products without appropriate FDA oversight and guidance.
Can FDA address the problem?
Research suggests that CBD can safely be used in dietary supplements. It has been established that CBD contains negligible amounts of THC, the psychoactive component of cannabis, and that it is non-psychoactive and does not cause a "high" in users. Further, CBD does not have the potential for abuse or addiction. The World Health Organization (WHO) Expert Committee on Drug Dependence recommended not scheduling CBD within the International Drug Control Conventions. WHO cited the fact that there are no case reports of CBD abuse or dependence; no public health problems have been associated with CBD use; CBD has been found to be generally well tolerated with a good safety profile; and that there is no evidence that CBD is liable to be abused.1 Furthermore, the U.S. Health and Human Services Department (HHS) conducted a scientific review on CBD and concluded that it does not present a significant risk to the public health. HHS found that there is no evidence for classic drug withdrawal, no evidence that CBD causes physical or psychic dependence and no potential for abuse under the CSA 2 .
[3] Hayatbakhsh, et al. Birth Outcomes associated with cannabis use before and during pregnancy. Pediatric Research. 2012; 71 (2): 215-219.
When this statutory prohibition applies to a substance, it prohibits the introduction into interstate commerce of any food to which the substance has been added unless FDA, in the agency's discretion, has issued a regulation approving the use of the substance in the food (section 301(ll)(2) of the FD&C Act [21 U.S.C. § 331(ll)(2)]). To date, no such regulation has been issued for any substance.
The GRAS conclusions can apply to ingredients for human food marketed by other companies, if they are manufactured in a way that is consistent with the notices and they meet the listed specifications. Some of the intended uses for these ingredients include adding them as source of protein, carbohydrates, oil, and other nutrients to beverages (juices, smoothies, protein drinks, plant-based alternatives to dairy products), soups, dips, spreads, sauces, dressings, plant-based alternatives to meat products, desserts, baked goods, cereals, snacks and nutrition bars. Products that contain any of these hemp seed-derived ingredients must declare them by name on the ingredient list.
Ingredients that are derived from parts of the cannabis plant that do not contain THC or CBD might fall outside the scope of this exclusion, and therefore might be able to be marketed as dietary supplements. However, all products marketed as dietary supplements must comply with all applicable laws and regulations governing dietary supplement products. For example, manufacturers and distributors who wish to market dietary supplements that contain "new dietary ingredients" (i.e., dietary ingredients that were not marketed in the United States in a dietary supplement before October 15, 1994) generally must notify FDA about these ingredients (see section 413(d) of the FD&C Act [21 U.S.C. § 350b(d)]). Generally, the notification must include information demonstrating that a dietary supplement containing the new dietary ingredient will reasonably be expected to be safe under the conditions of use recommended or suggested in the labeling. A dietary supplement is adulterated if it contains a new dietary ingredient for which there is inadequate information to provide reasonable assurance that the ingredient does not present a significant or unreasonable risk of illness or injury (see section 402(f)(1)(B) of the FD&C Act [21 U.S.C. 342(f)(1)(B)]).
Children and Pregnant/Lactating Women
A. The FDA is aware that several states have either passed laws that remove state restrictions on the medical use of cannabis and its derivatives or are considering doing so. It is important to conduct medical research into the safety and effectiveness of cannabis products through adequate and well-controlled clinical trials. We welcome the opportunity to talk with states who are considering support for medical research of cannabis and its derivatives, so that we can provide information on Federal and scientific standards.
A. General information about the import/export of drug products regulated by FDA can be found online here. The Drug Enforcement Administration (DEA) is the federal agency responsible for enforcing the controlled substance laws and regulations in the U.S. and, as such, should be consulted with respect to any regulations/requirements they may have regarding the import or export of products containing cannabis. Please see here for information about importing or exporting food ingredients.
11. In making the two previous determinations about THC, why did FDA conclude that THC is an active ingredient in a drug product that has been approved under section 505 of the FD&C Act? In making the two previous determinations about CBD, why did FDA determine that substantial clinical investigations have been authorized for and/or instituted, and that the existence of such investigations has been made public?
Regulatory Resources
Conducting clinical research using cannabis-related substances that are scheduled by the DEA often involves interactions with several federal agencies. This includes: a registration administered by the DEA; obtaining the cannabis for research from NIDA, within the National Institutes of Health, or another DEA-registered source; and review by the FDA of the IND or INAD application and research protocol. Additionally:
Signs that your pet may be suffering adverse effects from ingesting cannabis may include lethargy, depression, heavy drooling, vomiting, agitation, tremors, and convulsions.