A. It depends, among other things, on the intended use of the product and how it is labeled and marketed. Even if a CBD product meets the definition of "hemp" under the 2018 Farm Bill (see Question #2), it still must comply with all other applicable laws, including the FD&C Act. The below questions and answers explain some of the ways that specific parts of the FD&C Act can affect the legality of CBD products.
[5] Trezza, et al. Effects of perinatal exposure to delta-9-tetrahydrocannabinol on the emotional reactivity of the offspring: a longitudinal behavioral study in Wistar rats. Psychopharmacology (Berl) 2008; 198(4): 529-537.
FDA Communications
A. No. Based on available evidence, FDA has concluded that THC and CBD products are excluded from the dietary supplement definition under section 201(ff)(3)(B) of the FD&C Act [21 U.S.C. § 321(ff)(3)(B)]. Under that provision, if a substance (such as THC or CBD) is an active ingredient in a drug product that has been approved under section 505 of the FD&C Act [21 U.S.C. § 355], or has been authorized for investigation as a new drug for which substantial clinical investigations have been instituted and for which the existence of such investigations has been made public, then products containing that substance are excluded from the definition of a dietary supplement. FDA considers a substance to be "authorized for investigation as a new drug" if it is the subject of an Investigational New Drug application (IND) that has gone into effect. Under FDA's regulations (21 CFR 312.2), unless a clinical investigation meets the limited criteria in that regulation, an IND is required for all clinical investigations of products that are subject to section 505 of the FD&C Act.
Children and Pregnant/Lactating Women
A. No. There are no other FDA-approved drug products that contain CBD. We are aware that some firms are marketing CBD products to treat diseases or for other therapeutic uses , and we have issued several warning letters to such firms. Under the FD&C Act, any product intended to have a therapeutic or medical use, and any product (other than a food) that is intended to affect the structure or function of the body of humans or animals, is a drug. Drugs must generally either receive premarket approval by FDA through the New Drug Application (NDA) process or conform to a "monograph" for a particular drug category, as established by FDA's Over-the-Counter (OTC) Drug Review. CBD was not an ingredient considered under the OTC drug review. An unapproved new drug cannot be distributed or sold in interstate commerce.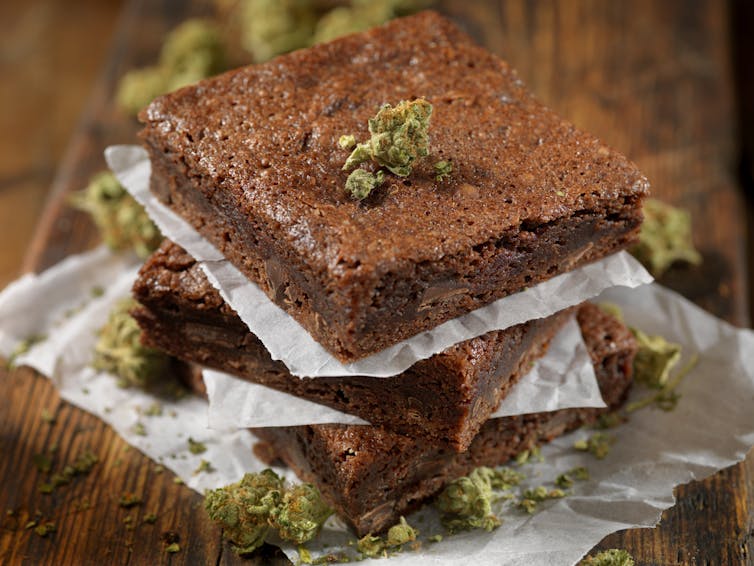 CBD, the plant's second most abundant cannabinoid, does not contain THC, and therefore does not have psychoactive effects. There is no high. CBD also doesn't seem to bind strongly with typical cannabinoid receptors. Instead, it interacts with other signaling molecules in the brain and throughout the body. For example, CBD may act on the serotonin system, particularly serotonin 5-HT1A receptors, which are involved in signaling pathways that regulate pain, depression and anxiety.
Wayne State University provides funding as a member of The Conversation US.
Partners
Researching CBD and other cannabis derivatives is also difficult. CBD products are currently unregulated by the U.S. Food and Drug Administration. This means CBD is not considered a dietary supplement, and marketed CBD products cannot make any health-related claims. This also means there's no oversight on what's in CBD products, which is why they are frequently mislabeled. This creates a "Wild West" environment for consumers.
In November, voters in four states – Arizona, Montana, New Jersey and South Dakota – voted to join 11 other states to legalize recreational cannabis use in the U.S. But the rise in legalization and decriminalization of cannabinoids, along with their widespread popularity, significantly outpaces the science. There is more research today on the potential medical applications of cannabinoids than ever before – including $196 million from the National Institutes of Health, along with $31 million on CBD in the year 2020.
What is CBD?
CBD is only one of more than 100 cannabinoids and other molecules found in the marijuana plant (Cannabis Sativa). Cannabinoids are known as signaling molecules: They interact with other molecules in the body, including the brain. For example, THC, the plant's most abundant cannabinoid, interacts with brain receptors to cause the "high" feeling. Cannabinoids can also impact the immune system; this may help alleviate inflammation, arthritic conditions and neuropathic pain.