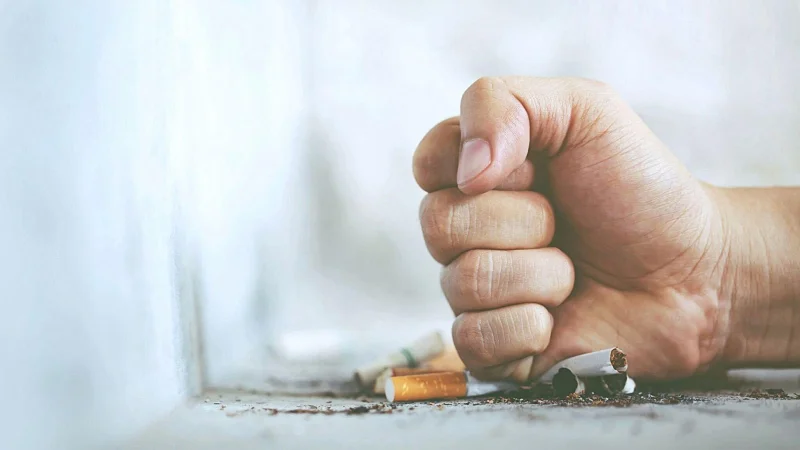 Unfortunately, using CBD oil to quit smoking cigarettes isn't the first-choice treatment among doctors.
Does using CBD oil to quit smoking cigarettes make sense?
Full-spectrum CBD oil contains all beneficial compounds that naturally occur in hemp plants, including CBD, adjunctive cannabinoids, terpenes, and trace amounts of THC. These ingredients work together to amplify each other's health benefits while mitigating potentially unwanted reactions (e.g., in a way, CBD counteracts the psychotropic effects of THC).
This phenomenon is known as the entourage effect — the reason why full-spectrum CBD products are the most desired type of CBD. Several studies have found that full-spectrum CBD oils overcome the bell-shaped dose-response when people take pure cannabidiol — meaning that dosing is more predictable with such products.
How Is Nicotine Addiction Usually Treated?
If you're looking for an effective way to quit smoking cigarettes, consult a behavioral therapist and ask them about using cognitive behavioral therapy in conjunction with CBD oil as a way to manage withdrawal symptoms and rewire your brain so that it becomes resistant to tobacco cues.
Understanding how nicotine addiction works is paramount if you want to find an effective solution. Aside from the obvious physical addiction, smoking cigarettes is habit-forming and thus can trigger behavioral addiction.
In a research paper posted in the journal Addiction , Hindocha et al. went on a series of experiments in which vaping cannabis was associated with reduced tobacco consumption. The research team hypothesized that :
Can You Use CBD Oil to Quit Smoking Cigarettes?
Consulting a medical practitioner experienced in using CBD for addiction should help you establish the optimal starting dosage. We recommend starting with a low dose, like 10-15 mg per day to see how your body responds to cannabidiol. If this works for you, you can begin taking more to assess what amount reduces the salience of tobacco stimuli.
Cigarette quitters can use CBD oil as a viable solution for kicking the habit. First, cannabidiol can control tobacco withdrawal symptoms like headaches, anxiety, insomnia, and difficulty concentrating. Second, it helps you ignore cigarette cravings by making you less susceptible to cigarette cues. Last but not least, you can smoke CBD joints or vape CBD liquid as a temporary alternative to cigarettes on your way to overcoming addiction.
Forget about consuming CBD oil and CBD edibles to quit smoking. There is a psychological factor to smoking hemp that must be addressed. Some people need to feel like they're smoking something because they grow dependent on the habit. It makes them feel as if their needs are getting fulfilled. If you want to refrain from smoking cigarettes, then why not smoke hemp?
CBD smokes feels like a regular cigarette
Remember that CBD is a non-toxic active cannabinoid ingredient of the cannabis plant. It doesn't change your brain function whatsoever. In fact, it restores your brain function after being altered by nicotine for so many years. So you are really helping your mind and body get to a more natural state by replacing cigarettes with hemp. Check out the tobacco-free hemp smoke products to see an example.
No fear of the law
You have nothing to fear from the authorities if you decide to smoke hemp rather than cigarettes. When the U.S. Congress passed the 2018 U.S. Farm Bill, it protected the right to farm, harvest, and consume hemp in most of the country. Some states have local regulations against it, but you won't have any legal issues on a federal level.