Through its interactions with the CB1 receptor, CBD is thought to modulate the psychotropic effects of THC by inhibiting its ability to bind to and stimulate the receptor. Which is why people don't feel as "high" when using CBD-rich cannabis compared to when they consume products high in THC. CBD is able to reduce some of the negative effects of THC by decreasing anxiety, paranoia and the short-term memory impairment often experienced when consuming cannabis. Evidence suggests that a CBD-rich product with little THC can in fact convey therapeutic benefits without having a euphoric or dysphoric effect.
In October 2017, the World Health Organization (WHO) published a pre-review report which provides the most up to date summation of the current and potential clinical uses of CBD. Unequivocal evidence now supports the use of CBD in the treatment for at least some forms of epilepsy including Dravet syndrome, a complex childhood epilepsy disorder that is associated with drug-resistant seizures and a high mortality rate. Other indications are consistent with its neuroprotective, antiepileptic, hypoxia-ischemia, anxiolytic, antipsychotic, analgesic, anti-inflammatory, anti-asthmatic, and antitumor properties. These indications are based on limited clinical and pre-clinical evidence as well as swathes of anecdotal evidence. Sufferers of Alzheimer's, Parkinson's and Huntington's disease as well as multiple sclerosis, psychosis, anxiety, depression, cancer and many more could all benefit from treatment with CBD according to the WHO.
CBD was first isolated in 1940 whilst THC was isolated in 1964 by the preeminent cannabis scientist Raphael Mechoulam. At the most fundamental level, THC and CBD are different because of their differing physiological effects. CBD is non-psychotropic and therefore does not illicit a "high" whereas THC is psychotropic and is the only known cannabis-derived compound to illicit a "high". Here we look at some of the key differences, and similarities, between CBD and THC.
Like what you just read? You can find similar content on the topic tag shown below.
The use of cannabis as a medicinal plant dates back thousands of years across cultures around the world. However, due to relatively modern restrictions and regulations, the research into the use of cannabis as a medicine in the modern world has been severely limited. As the legalization and decimalization of cannabis increase around the world, the ability to research its potential uses is opening up.
The physiological effects of CBD vs THC


THC and CBD are just two compounds from a family of around 113 bi- and tri-cyclic compounds found naturally in cannabis. Both CBD and THC share the exact same molecular formula, C21H30O2, containing twenty-one atoms of carbon, thirty of hydrogen and two of oxygen. Their molecular mass is practically identical with THC and CBD having masses of 314.469 g/mol 314.464 g/mol, respectively.
We are aware that there may be some products on the market that add CBD to a food or label CBD as a dietary supplement. Under federal law, it is illegal to market CBD this way.
The FDA is actively working to learn more about the safety of CBD and CBD products, including the risks identified above and other topics, such as:
In addition, CBD can be the cause of side effects that you might notice. These side effects should improve when CBD is stopped or when the amount used is reduced. This could include changes in alertness, most commonly experienced as somnolence (sleepiness), but this could also include insomnia; gastrointestinal distress, most commonly experienced as diarrhea and/or decreased appetite but could also include abdominal pain or upset stomach; and changes in mood, most commonly experienced as irritability and agitation.
The FDA is concerned that people may mistakenly believe that using CBD "can't hurt." The agency wants to be clear that we have seen only limited data about CBD's safety and these data point to real risks that need to be considered. As part of the drug review and approval process for the prescription drug containing CBD, it was determined that the risks are outweighed by the benefits of the approved drug for the particular population for which it was intended. Consumer use of any CBD products should always be discussed with a healthcare provider. Consumers should be aware of the potential risks associated with using CBD products. Some of these can occur without your awareness, such as:
Evaluation of the regulatory frameworks
The FDA is committed to setting sound, science-based policy. The FDA is raising these safety, marketing, and labeling concerns because we want you to know what we know. We encourage consumers to think carefully before exposing themselves, their family, or their pets, to any product, especially products like CBD, which may have potential risks, be of unknown quality, and have unproven benefits.
Misleading, unproven, or false claims associated with CBD products may lead consumers to put off getting important medical care, such as proper diagnosis, treatment, and supportive care. For that reason, it's important to talk to your doctor about the best way to treat diseases or conditions with available FDA-approved treatment options.
Unlike the FDA-approved CBD drug product, unapproved CBD products, which could include cosmetics, foods, products marketed as dietary supplements, and any other product (other than Epidiolex) making therapeutic claims, have not been subject to FDA evaluation regarding whether they are effective to treat a particular disease or have other effects that may be claimed. In addition, they have not been evaluated by the FDA to determine what the proper dosage is, how they could interact with other drugs or foods, or whether they have dangerous side effects or other safety concerns.
Unanswered questions about the science, safety, and quality
The FDA is evaluating the regulatory frameworks that apply to certain cannabis-derived products that are intended for non-drug uses, including whether and/or how the FDA might consider updating its regulations, as well as whether potential legislation might be appropriate. The information we have underscores the need for further study and high quality, scientific information about the safety and potential uses of CBD.
The FDA is working to answer questions about the science, safety, and quality of products containing cannabis and cannabis-derived compounds, particularly CBD.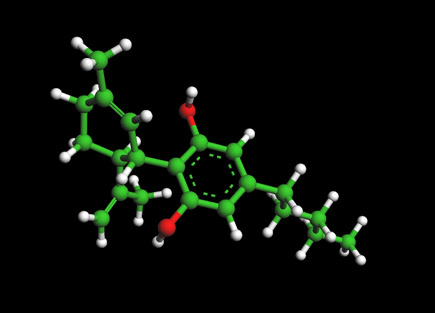 CBD does not cause intoxication or euphoria (the "high") that comes from tetrahydrocannabinol (THC). It is THC (and not CBD) that is the primary psychoactive component of marijuana.
Chemical and Physical Properties of the Cannabidiol (CBD) Molecule
As of 2018 in the United States, Food and Drug Administration approval of cannabidiol as a prescription drug called Epidiolex for medical uses has been limited to two rare forms of childhood epilepsy (1) .
Pharmacological Profile and Mechanism of action – CBD
Treatment with purified cannabidiol (CBD) appears to counteract the development of experimental multiple sclerosis (MS), by targeting the PI3K/Akt/mTOR pathway similar to effects found with other cannabinoids. (10)