There hasn't been much research yet to determine what is considered a safe dose of CBD when taking it with drugs like Xanax. A 2013 clinical study using a CBD sublingual spray found that there were no interactions with liver enzymes with doses up to 40 mg (6). However, more work is needed to look at CBD in forms such as full-spectrum oil, vape, and smoked herbal flowers. All of these forms of administration are metabolized by the liver and therefore carry some risk of interactions.
The Federal Drug Administration does not regulate CBD, so you should always be diligent when selecting a source. Always buy your product from a reputable company that offers organic CBD. Look for companies that offer third-party testing to make sure that the product is accurately labeled and dosed. Start with 5–10 mg per day for anxiety reduction and increase your dose by 5 mg a day to find your sweet spot.
Taking CBD & Xanax Together
CBD may be able to help people who struggle with addiction to Xanax, but we'll have to wait and see what the research says.
Due to the many health benefits of CBD and the side-effects of Xanax, many people are considering switching to CBD to manage their anxiety. Talk to your doctor if you plan on making the switch so they can monitor any withdrawal symptoms.
Can CBD Help with Xanax Addiction?
Xanax is considered one of the most addictive benzodiazepines on the market. Approximately 40% of people who use benzodiazepines daily for a period of six weeks or more will become dependent on them.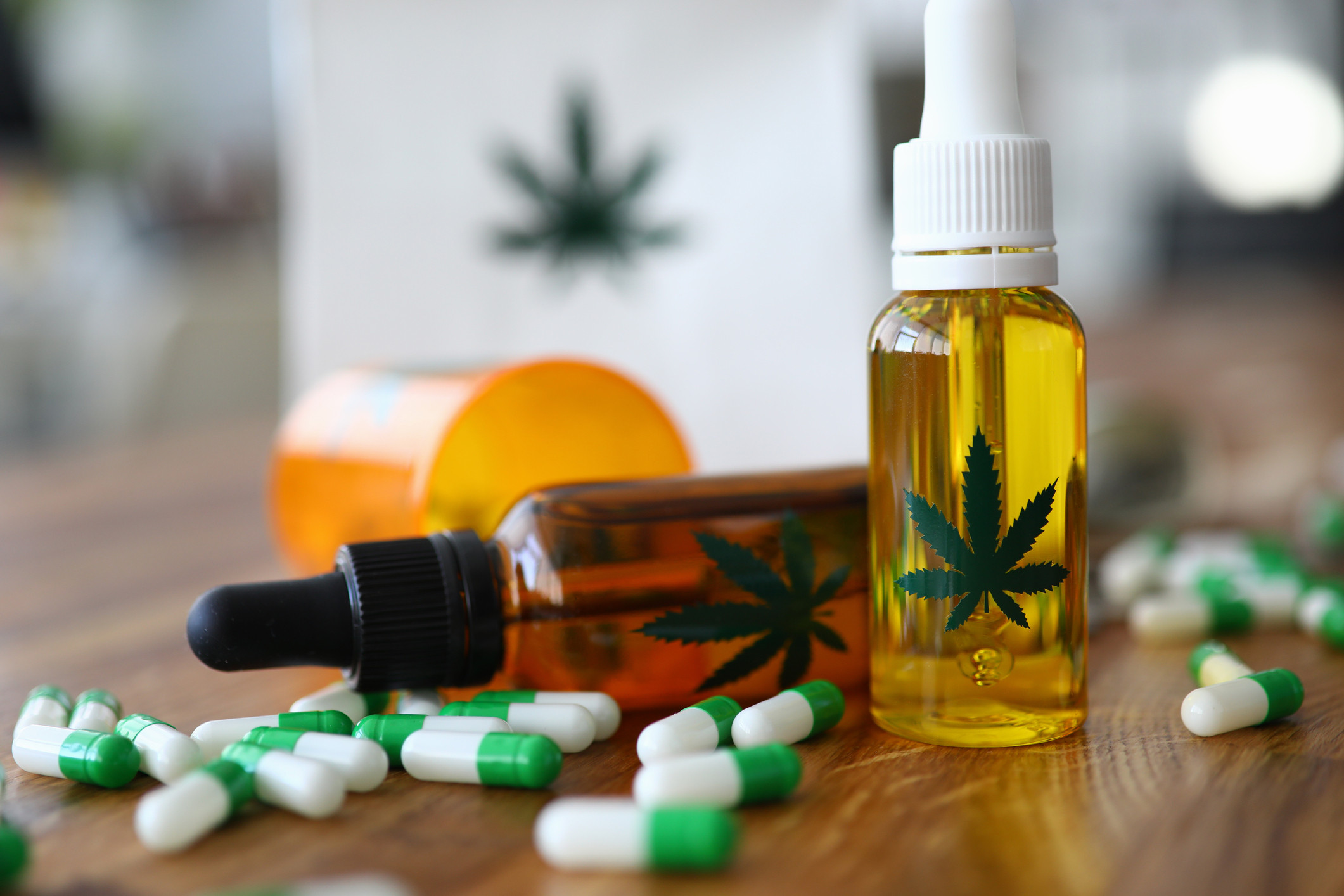 Researchers from Penn State College of Medicine evaluated existing information on five prescription CBD and delta-9-tetrahydrocannabinol (THC) cannabinoid medications: antinausea medications used during cancer treatment (Marinol, Syndros, Cesamet); a medication used primarily for muscle spasms in multiple sclerosis (Sativex, which is not currently available in the US, but available in other countries); and an antiseizure medication (Epidiolex). Overall, the researchers identified 139 medications that may be affected by cannabinoids. This list was further narrowed to 57 medications, for which altered concentration can be dangerous. The list contains a variety of drugs from heart medications to antibiotics, although not all the drugs on the list may be affected by CBD-only products (some are only affected by THC). Potentially serious drug interactions with CBD included
Absolutely. Inhaled CBD gets into the blood the fastest, reaching high concentration within 30 minutes and increasing the risk of acute side effects. Edibles require longer time to absorb and are less likely to produce a high concentration peak, although they may eventually reach high enough levels to cause an issue or interact with other medications. Topical formulations, such as creams and lotions, may not absorb and get into the blood in sufficient amount to interact with other medications, although there is very little information on how much of CBD gets into the blood eventually. All of this is further complicated by the fact that none of these products are regulated or checked for purity, concentration, or safety.
CBD can alter the effects of other drugs
CBD has the potential to interact with many other products, including over-the-counter medications, herbal products, and prescription medications. Some medications should never be taken with CBD; the use of other medications may need to be modified or reduced to prevent serious issues. The consequences of drug interactions also depend on many other factors, including the dose of CBD, the dose of another medication, and a person's underlying health condition. Older adults are more susceptible to drug interactions because they often take multiple medications, and because of age-related physiological changes that affect how our bodies process medications.
The researchers further warned that while the list may be used as a starting point to identify potential drug interactions with marijuana or CBD oil, plant-derived cannabinoid products may deliver highly variable cannabinoid concentrations (unlike the FDA-regulated prescription cannabinoid medications previously mentioned), and may contain many other compounds that can increase the risk of unintended drug interactions.
Does the form of CBD matter?
Products containing cannabidiol (CBD) seem to be all the rage these days, promising relief from a wide range of maladies, from insomnia and hot flashes to chronic pain and seizures. Some of these claims have merit to them, while some of them are just hype. But it won't hurt to try, right? Well, not so fast. CBD is a biologically active compound, and as such, it may also have unintended consequences. These include known side effects of CBD, but also unintended interactions with supplements, herbal products, and over-the-counter (OTC) and prescription medications.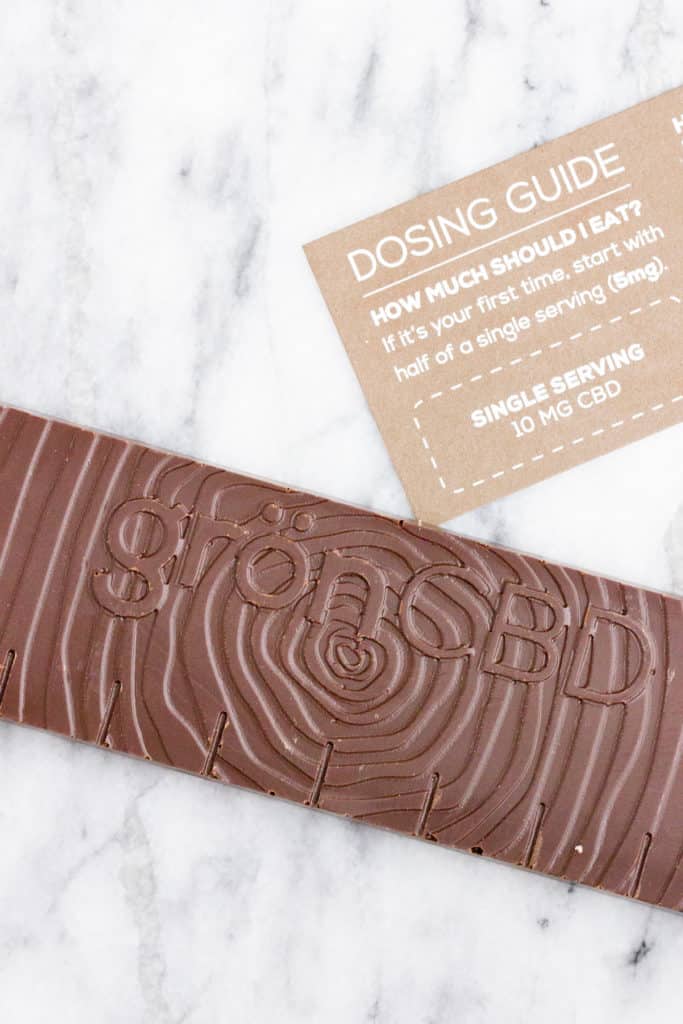 I soon picked up a few bars of Grön CBD chocolate (found after some intense Googling) and Sunday Scaries gummies after the owner reached out to Hello Glow via Instagram. Now I have a stockpile ready for any time of day: honey for stirring into morning tea, a bottle of gummies to go with me in my purse, and chocolate to have after dinner to help me sleep better.
Pictured: Grön CBD Chocolate
Even at the smallest doses, it makes me sleepy, so I don't like to take it during the day. And although nighttime is usually when my anxiety peaks, even then, I don't want to take it often because I'm afraid of becoming dependent.
In 2018, the FDA unanimously recommended approval for an epilepsy drug made from CBD called Epidiolex [ source ], and it is now the first CBD medicine available in the U.S. [ source ]. Because of its FDA approval, it is now regulated and does not have any of the safety concerns that other forms of CBD carry. A few studies have been carried out that show inaccuracies in the labeling of CBD products sold online [ source ] and from retail outlets [ source ], revealing large ranges of variability in the product contained.
CBD for anxiety—does it work?
Before I talk about my experience using CBD for anxiety, you may be wondering, "Is CBD even legal?!" Well, yes, it is—kind of. What's not legal in some places is CBD derived from marijuana, unless you're in a state where marijuana is legal [ source ].
For those times, I've been prescribed Xanax. And it helps, for sure. But the thing is, I get nervous about taking it. (Yes, that's right—I get anxious about taking the medication that's supposed to make me less anxious. I am a disaster, y'all.)
Anxiety has been part of my life for so long that I don't really know who I am without it. I have obsessive-compulsive disorder and also just a high-strung, anxious nature. When things are going well, I tend to take a glass-half-full perspective and link my drive and work ethic to the ever-present anxiety that pushes me to always do more. But when things are going badly, sometimes it's hard to function like a normal person because I'm so paralyzed with fear.
My Experience Taking CBD for Anxiety
I tend to carry tension in my body, and I'm never still. I drive everyone around me crazy by constantly fidgeting and bouncing my legs. The CBD made my body feel calm and quiet.
Just to be clear, CBD doesn't get you high. The compound that gives you that feeling when you use marijuana is called THC . And if you feel high after taking CBD, you're probably taking a product that's impure or mixed with other elements for that purpose [ source ].