Cafe by day, bespoke cocktail bar by night. We love visiting at any time, but especially at breakfast. We're fans of the avocado and feta toasties, egg sarnies, and healthy yet scrumptious chia seed puddings. Be warned: it's closed on a Monday.
Lunar Coffee Brewers, 6 Shenton Way, OUE Downtown Gallery #01-49, 068809, t. 6224 4500. Open Mon – Fri: 8am – 8pm, Sat: 9am – 3pm
Free the Robot
From Monday to Friday, pick up some Eggs Benedict (S$14.50) or get creative with their Club House DIY Breakfast. If not, we'd say that their Club Signature Breakfast (S$17.50) sounds pretty good too.
Grain Traders
138 Market Street
#01-01 CapitaGreen
Singapore 048946
Mon to Fri: 8am – 8pm
Nearest Station: Telok Ayer
Free The Robot
118 Telok Ayer Street,
Singapore 068587
Tel: +65 6438 1836
Tue to Fri: 8.30am – 4.30pm
Sat: 9.30am – 4.30pm
Mon & Sun: Closed
Nearest Station: Telok Ayer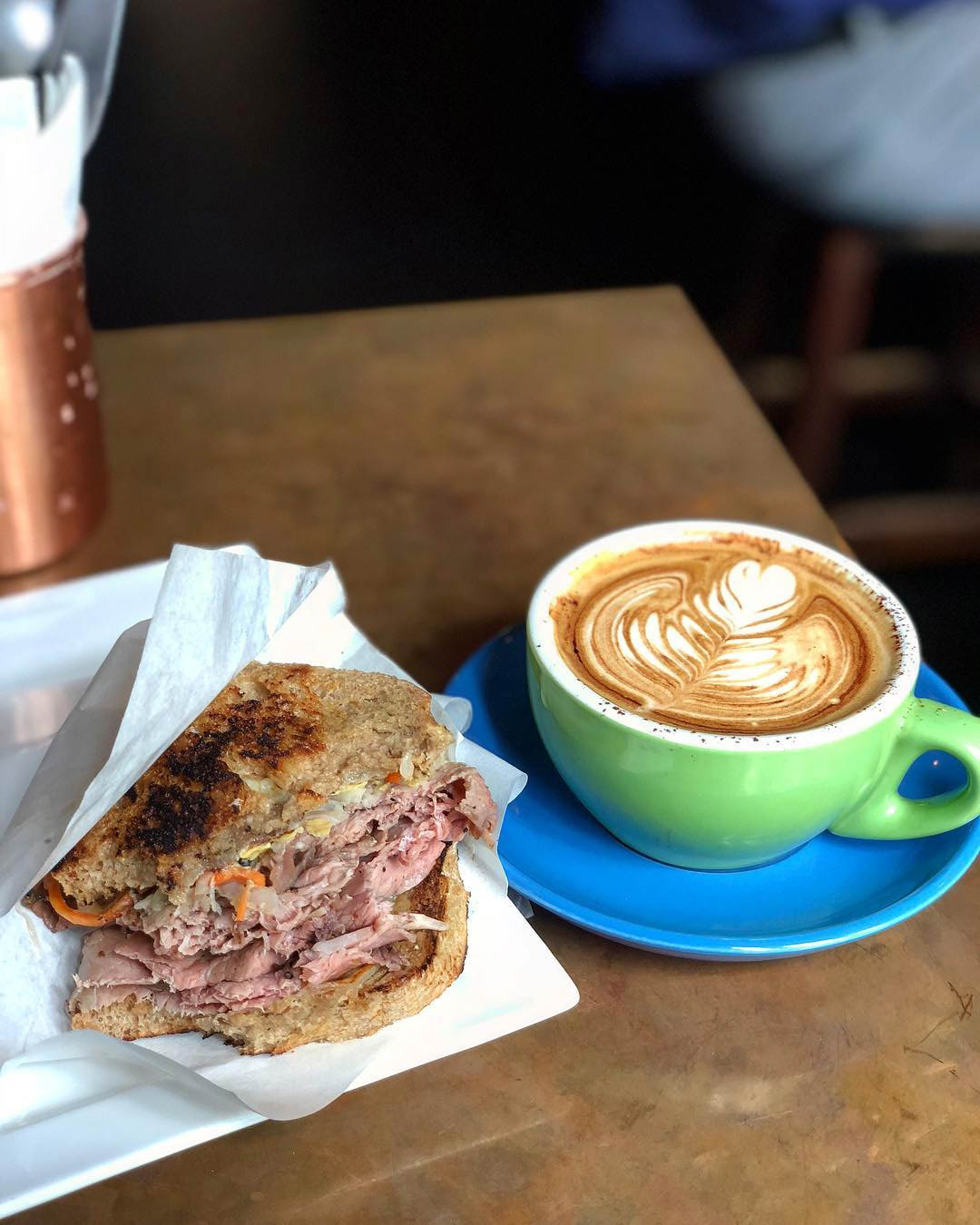 Dapper Coffee should be your go-to cafe if you're in need of a bit of sparkle to brighten up your day. Its dark, woody colour scheme and rack of alcohol bottles create a strange fusion of cafe and bar vibes, which is understandable considering that it turns into a pub, The Spiffy Dapper , at night.
An expansive menu is available here, particularly for drinks. They have homemade sodas, along with coffee, tea, and a wide range of boozy options too.

Image credit: @cafeteriors
9. Shake Farm

Image credit: @meeniemee
Since raising its shutters in 2014, Frenchman Franck Hardy's My Awesome Cafe has become a stalwart amidst the Telok Ayer cafes, renowned for its tasty food and old-world charm. The cafe complements its throwback Chung Hwa Free Clinic facade with retro, industrial fittings inside. The bare bulbs and school desks imbue the space with vintage Singaporean charisma, even as you chow down on European cafe fare.
To sate your sweet tooth, PB-Stuffed French Toast ($16+) is the only option sandwich-wise. While it may seem like a steep price to pay for something that can be made at home in two minutes, this version kicks your Smuckers-and-Gardenia creation up a few notches. Artisanal rhubarb and strawberry jam made in-house is spread onto thick brioche French toast slices, along with a creamy almond hazelnut butter— a sugar high to start your day.
2. Merci Marcel
Most popular is the sparkly, photogenic, sky-blue Unicorn Tears ($10) . I'm not sure how comfortable I am drinking fluids from a mythical creature, but it certainly makes for an eye-catching IG story!
Check out our full review of French Fold.