The build-your-own breakfast concept here is a winner. Head to the pimp my breakfast section of the menu and construct a feast from the myriad of options ranging from the expected (eggs any way, bacon, baked beans, avocado, tomato… you get the gist) to curveballs including homemade kimchi, cauliflower cheese, homemade ricotta, and trout roe. Don't knock it 'til you try it.
Grain Traders
Head to the back of this men's clothing store (which btw gents, is worth checking out) and you'll find a cute cafe serving up great coffee and an array of artisanal toasts and pastries. Toast comes served with either cinnamon, Nutella, lemon, or apple; the perfect morning pit stop if you're craving something sweet.
Jewel, 1 Shenton Way, #01-07, 068803, t. 6636 9452. Open Mon – Fri: 7am – 7pm, Sat: 8am – 5pm / 160 Robinson Road, #01-01 SBF Centre, Singapore 068914, t. 6384 6533. Open Mon – Fri: 7.30am – 6.30pm
The coffee at Jewel is where it's at. Expect new beans with distinct profiles to appear weekly. Not only is the coffee killer, there're plenty of easy bites to grab for brekky when you're on the go. From pastries and blueberry muffins (ask for it served warm), to granola pots and savoury muffins filled with egg, sausages, and bacon. Yum.
The Providore
Monument Lifestyle cafe
Lunar Coffee Brewers, 6 Shenton Way, OUE Downtown Gallery #01-49, 068809, t. 6224 4500. Open Mon – Fri: 8am – 8pm, Sat: 9am – 3pm
Say hello to the king of toast. Rock up here for a stellar cup of Sarnies coffee, and treat yourself to something delicious on sourdough. Go savoury with avocado, marinated feta, and zaatar (it's divine, order it), or melted mozzarella, ham, and fermented garlic honey butter. Alternatively go sweet with Nutella, banana, almond flakes, granola, and honey or good ol' peanut butter and jelly. Alternatively, choose your own topping from a myriad of yummy options like Vegemite, espresso butter, or chocolate coconut hazelnut butter (and yes, that tastes as good as it sounds).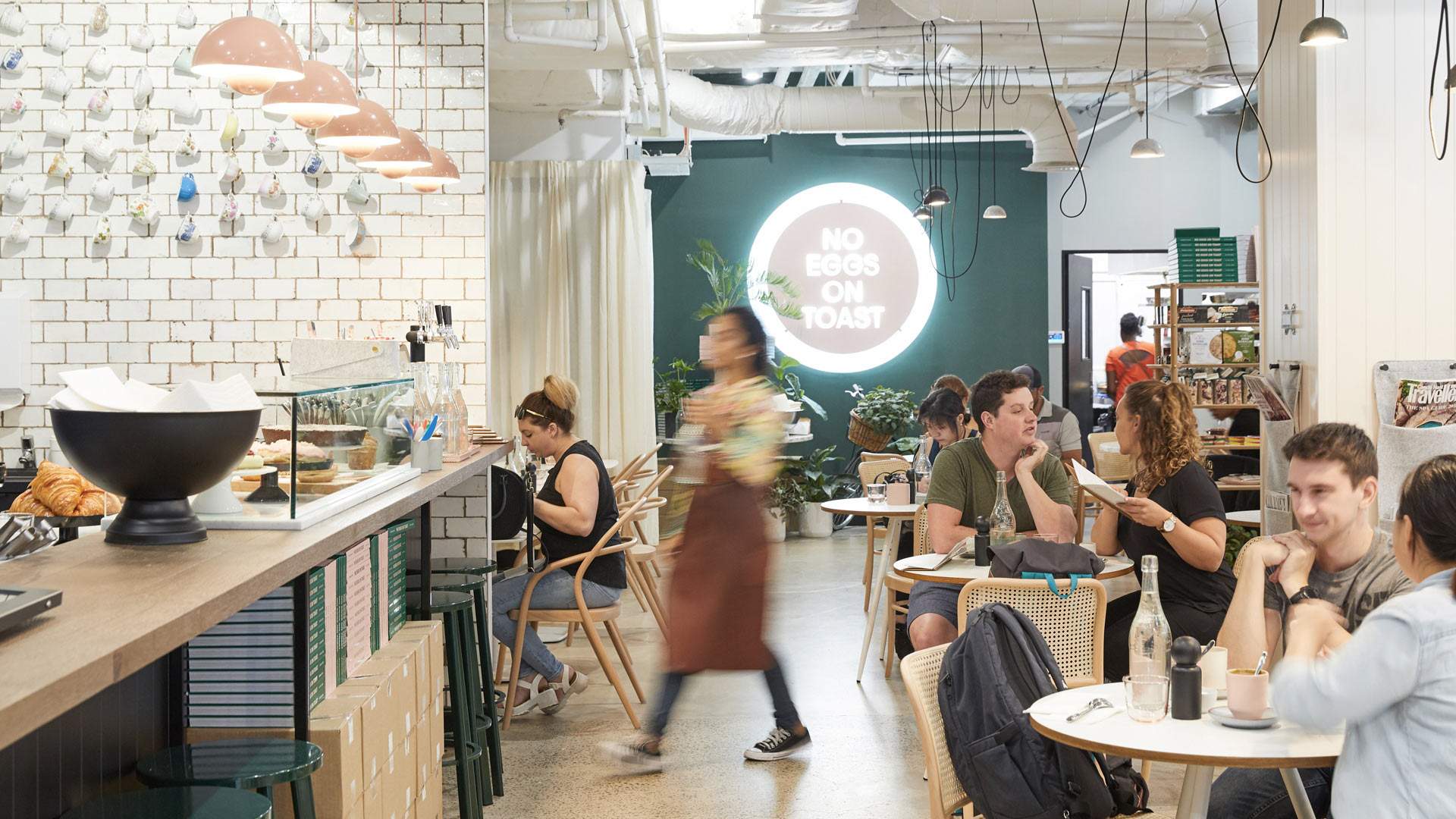 Add to Playlist
While Melbourne's obsession with weekend breakfasts is ingrained in its identity, the first meal of the day is sometimes overlooked during the week in favour of a few more snoozes and a couple of extra minutes in a warm bed. We're all about those zzzs, but it's no excuse for skipping brekkie — especially if you work or study in the city. Morning meal options abound in the CBD, with cafes opening early during the week, ready to ply you with good food and even better coffee to start that day right.
On the weekend, this cafe from the team behind Top Paddock and The Kettle Black usually requires a wait — which is exactly why you should tee up a pre-work visit instead. The huge 160-seat heritage-listed powerhouse on the corner of Little Bourke and Spencer streets is impressive to say the least; a palette of exposed brick and green marble is spread across a multi-level space, which includes an elevated dining area, an open kitchen, and a large mezzanine that holds couches, tables and its own bar. So, it's the perfect place to breakfast alone or even hold a meeting. The brunch menu is served up until 3pm, boasting the likes of avo on toast with a Vegemite emulsion, a spanner crab benedict and even a rendition of the famous Top Paddock ricotta hotcake.
So, for the sake of nutrition, productivity and your tastebuds, we've put together a list of the best spots for a top-notch weekday breakfast. Take a moment to sit down, read the news and digest before you get locked into the daily grind.
Open from 7am
Start creating a personalised itinerary to your city here — or add to an existing list. Save it, share it and take it with you on your next local adventure.
HIGHER GROUND
The wonderfully designed Vacation had originally focussed on speciality coffee, but after initially seeing their spacious corner on Exhibition Street, the team decided to install a small kitchen. Everything on the menu has gluten-free options, and a decent amount of their dishes are vegan. Exhibit A: one of their most popular orders, toast with avocado, lemon, seeds, sprouts, and EVOO dressing. Or try their bircher muesli with yoghurt and seasonal fruit for a sweet but healthy morning bite.
Baking legends and cafe royalty, Rustica , have got everything that you'd ever want for a morning fix, even when considering the rigorous standard of Melburnians in 2021. Their Melbourne central cafe stocks their top-shelf lineup of bread and baked goods, with First Love coffee, along with a menu of visually stunning dine-in options. A go-to is their avocado toast, one of the prettiest things you'll ever see on a plate with Meredith feta and pickled salad.
White Mojo
Whether you're in the city to shop up a storm, or just looking for a quick stop during the 9-5 grind, here are the best spots in Melbourne's CBD to grab brunch at.
Brother Baba Budan
Stay on the line with Operator 25 —they're worth the wait. We recommended the Bubble Waffle for the brunch-venturous, a Hong-Kong style waffle served with white chocolate sauce, poached peach, berries, and matcha sauce. Proudly boasting innovative brunch options, skip the smashed avo on your next outing and try out one of Melbourne CBD's best cafes.