You can only use this image in editorial media and for personal use. Editorial media includes use as a visual reference to support your article, story, critique or educational text. Personal use allows you to make a single personal print, card or gift for non-commercial use. Not for resale.
It shouldn't be used for commercial use which includes advertising, marketing, promotion, packaging, advertorials, and consumer or merchandising products.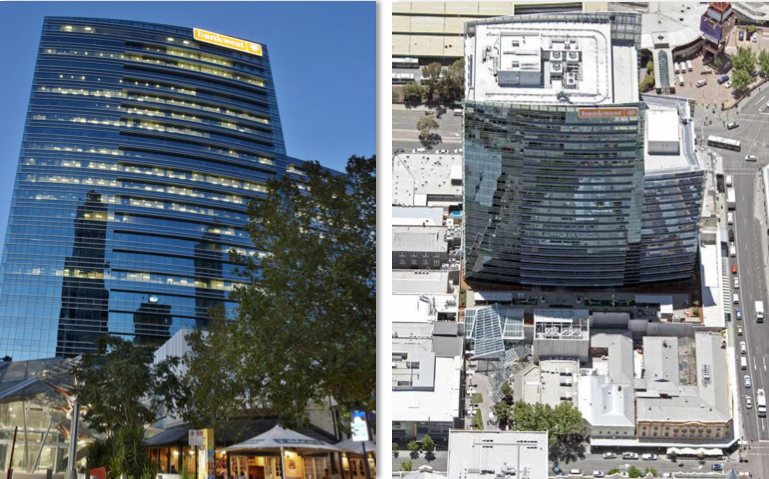 The building also comprises two hotel complexes, totaling 5,736 square metres, which are leased for eight years and pose potential for future expansion.
Set on a 1.2 hectare site, the building also features a three level, 9,831 sqm retail centre anchored by a 12 year lease to Coles Supermarkets.
Bankwest Place is Perth's newest CBD office building and was purchased from receivers Korda Mentha on behalf of Westgem Investments Pty Ltd.
"With annual 4% reviews and a 10% capped market review in three years, we are expecting a compound growth rate of 5% per annum for the office renal income, which represents over 70% of the market rental income profile of the whole complex," said Mr Harrison.
Charter Hall has announced that it will partner with its Core Plus Office Fund to acquire Bankwest Place, including the Raine Square shopping centre, valued at $458 million.
"Despite the slowdown in the resource sector, we are confident about the longer term outlook for Perth and are attracted to the security of a non-resource tenant of Bankwest's calibre in this active precinct.
Joint Managing Director for Charter Hall, David Harrison, said the acquisition represents Charter Hall's commitment to raising and deploying capital into core real estate investment.
Bankwest Place is 100% leased to Bankwest for an initial term of 12 years which benefits from annual 4% rental increases and four yearly market reviews capped at 10%.